Workforce has become a hot topic in many economic development circles lately. Since at least the COVID-19 pandemic, companies have been scrambling to find workers to fill jobs. Rapid technological changes and the decline of globalization have driven a growing demand for US worker training and reskilling. But, as Ecclesiastes says, "There is nothing new under the sun."
Medievalists.net, a website featuring news, articles, and podcasts about the Middle Ages, recently posted an article highlighting "40 Jobs in the Middle Ages." These jobs came from the illustrated pages of a series of 15th- and 16th-century books known as the House Books of the Nuremberg Twelve Brothers Foundation. The foundation, established in Germany in 1388, "would assist poor and needy people by providing them with training to work in a trade." The people they helped became carpenters, butchers, bakers, sacristans, bird catchers, and spurriers, among many other occupations.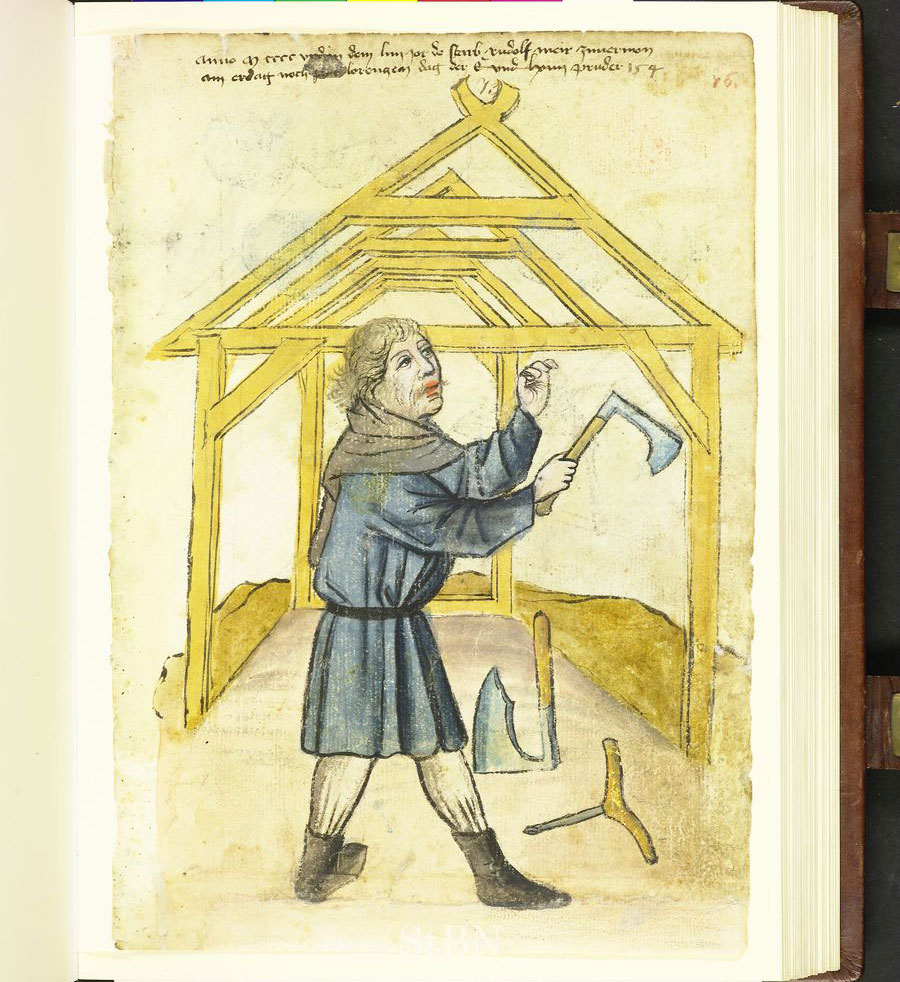 An illustration of a Medieval carpenter from the House Books of the Nuremberg Twelve Brothers Foundation
The work of the Nuremberg Twelve Brothers Foundation is not unlike what consultants like Camoin Associates do for states, regions, counties, and cities today. Our workforce analyses have examined how to tap into "missing workers," those who are unemployed or not even in the labor force, to help fill needed jobs. For example, working with Highland Planning, we found that by far the biggest challenge for businesses in New York State is finding people to fill technician, entry-level, and low- and middle-skill positions. Like the Twelve Brothers Foundation recognized 600 years ago, we recommended increasing the participation of under-supported individuals to help meet workforce needs.
Today, there are perhaps more venues for skills development than existed in the Middle Ages. As Harvard University's Project on Workforce notes, "Billions in federal, state, and private philanthropic dollars support an expanding set of non-profit, for-profit, and public programs where learners gain work-relevant skills in service of job attainment."
Local community colleges and other higher-education institutions are obvious sources. Apprenticeships provide an important and growing avenue for advancement. And many employers are willing to train people themselves and have increasingly turned to in-house and on-the-job training and mentoring for people with no degree or experience. While the options for training continue to grow, there still appears to be a shortage of people willing to work.
Although some of the trades featured in the medieval House Books have disappeared or declined in importance, the principle of providing the economically marginalized with in-demand skills as both a path to independence for individuals and a source of labor for businesses remains just as relevant today.
Camoin Associates helps clients craft actionable workforce development and talent retention solutions to create a resilient labor pipeline, supporting equitable and inclusive economic growth. Learn more about our workforce development services.