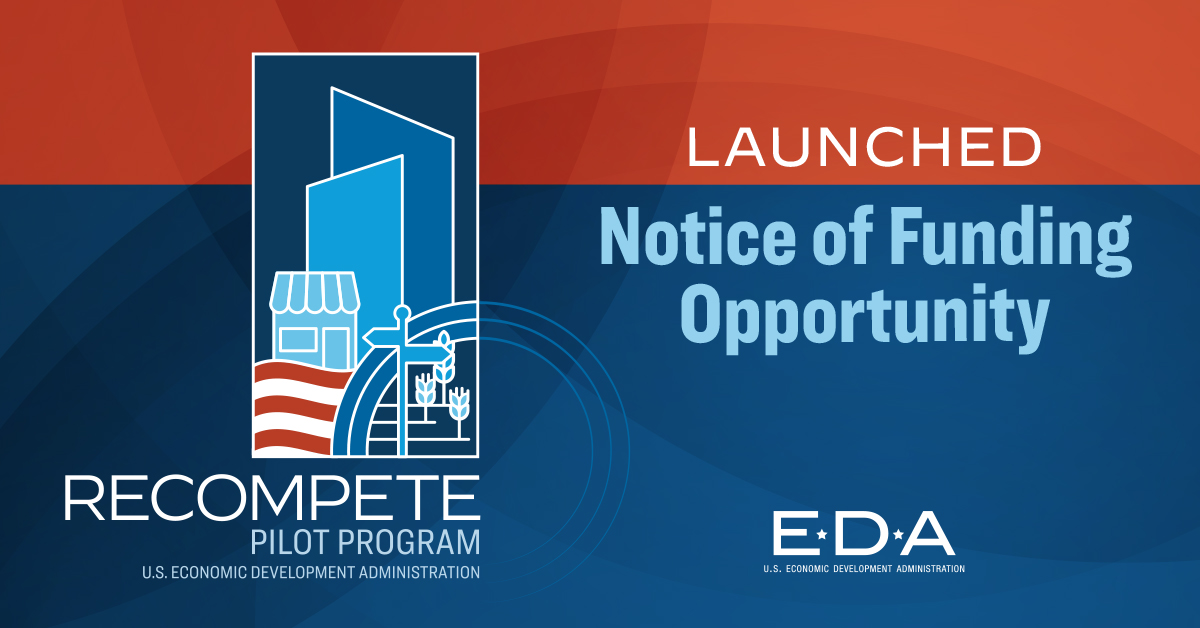 The US Economic Development Administration (EDA) recently opened the funding application period for Phase 1 of the federal government's new $200 million Distressed Area Recompete Pilot Program (Recompete).
Recompete was authorized by the CHIPS and Science Act and is part of President Joe Biden's Investing in America agenda. The program targets communities most in need of economic resources and options to help create a pathway to economic prosperity.
More specifically, the program targets areas experiencing persistent economic distress, where employment of people aged 25-54 is significantly lower than the national average and where potential workers either cannot find good jobs nearby and/or face significant barriers to employment such as lack of reliable transportation, childcare, or other supportive services.
Recompete aims to close this employment gap within these communities by funding initiatives that make it easier for adults to enter the workforce and find a good paying job.
The program's foundation is the belief that communities know best what they need to address these long-term employment issues. In that spirit, EDA will partner with communities that receive Recompete funding to make large, flexible investments based on that community's priorities.
Recompete Program Phases
Recompete has two phases. Phase 1 invites applicants to 1) apply for funding for developing a strategy, 2) apply for approval of a Recompete Plan, or 3) both.
Strategy development grants can be used to fund:
development of a comprehensive regional strategy to address a high prime-age employment gap within the community, including goals and strategies for implementation
updating or developing regional workforce needs and capabilities assessments
identification or implementation of changes to codes, laws, or policies necessary to implement a comprehensive regional strategy to address a high prime-age employment gap
hiring staff to help lead the effort
developing a workforce development strategy aligned with the region's strengths
collecting data about the population of people ages 25-54 in Tribal areas and Pacific Ocean territories to determine their prime-age employment gap
A Recompete Plan must clearly demonstrate:
a deep understanding of regional conditions and needs
a strong strategy for addressing the causes of the high prime-age employment gap and the quality of potential investments
how the applicant will engage underserved communities in the planning process and ensure benefits are shared equitably across all affected populations
an understanding and inventory of existing community or regional assets critical to reducing the prime-age employment gap
a targeted geographic approach to creating good jobs and connecting people to them
the commitment of key local, regional, and state partners to reducing the prime-age employment gap and supporting the plan
Applications for Phase 1 funding are due by October 5, 2023. The EDA anticipates awarding approximately $6-$12 million in strategy development grants and approving at least 20 Recompete Plans in Phase 1.
Phase 2 will then invite those communities or regions with an approved Recompete Plan to apply for implementation funding. Those who only apply for a strategy development grant cannot apply for Phase 2 implementation funding.
The EDA expects to make 4-8 implementation grant awards of between $20-$50 million each in Phase 2. The application period for Phase 2 funding is expected to be announced in late fall.
Who Can Apply for Recompete Funding?
Eligible applicants include local, state, and territory governments, Tribal governments, political subdivisions of a state or other entity, nonprofits, economic development districts, and coalitions of any of these entities that serve an eligible geographic area.
Applicants must also be located in one of two eligible area types and meet certain prime-age employment gap requirements:
1) Local Labor Market, i.e., a Metropolitan Statistical Area, a Micropolitan Statistical Area, a commuting zone, a Pacific Ocean Territory, or Tribal lands, with a prime-age employment gap of at least 2.5%
OR
2) Local Communities: areas served by a general-purpose unit of local government (e.g., city council, county commission, etc.) that are located within but do not cover the entire area of a Local Labor Market, AND
Exist within a Local Labor Market that does not qualify for Recompete funding, AND
Either the entire area OR five or more contiguous Census tracts of the area served by the unit of local government have a prime-age employment gap of at least 5% and a median annual household income of no more than $75,000
To make it simpler to determine if your community is eligible for the grant, the US EDA has developed an online Recompete Eligibility Mapping Tool, along with a helpful instructional video that explains how to use it.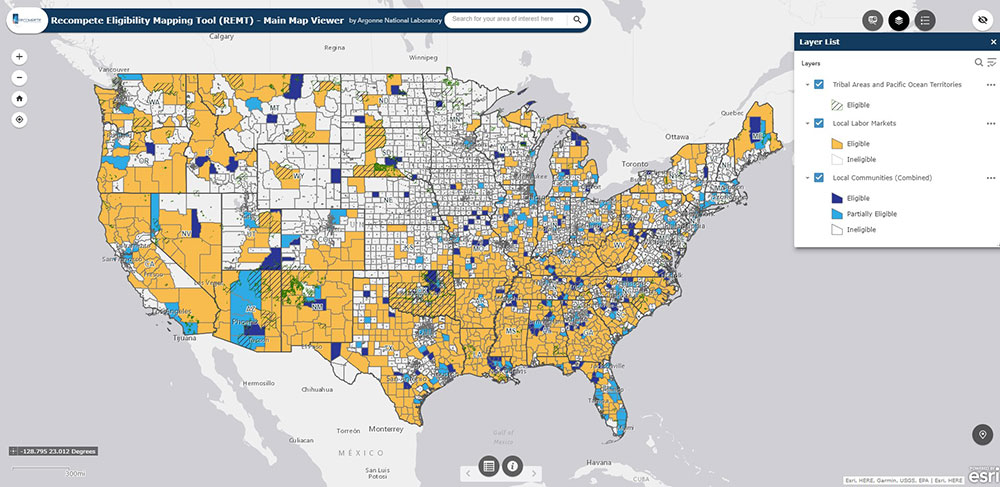 Learn more about the Recompete Pilot Program and access application resources, including FAQs, checklists, templates, and more.
Camoin Associates is ready to assist communities that receive a Recompete Phase 1 strategy development grant. Our services include economic development strategic planning, workforce development assessments and strategies, and more. Learn more about our services and contact us.