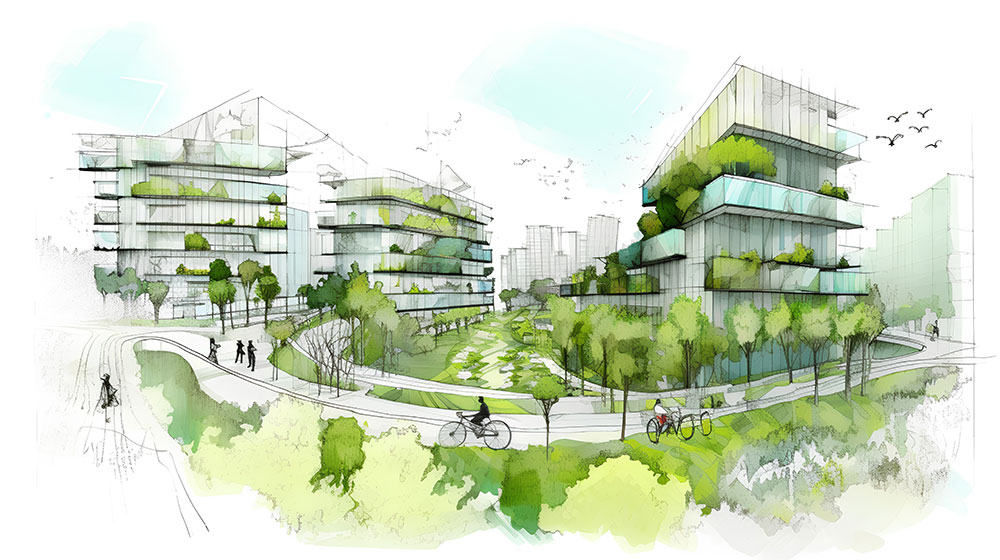 The innovation district model, the approach to fostering innovation by siting new and existing companies near anchor institutions like research-oriented colleges and hospitals, has been around long enough to enter economic development jargon, yet the "recipe" for creating a thriving innovation district continues to elude many communities.
For those of us who are working in communities to establish, grow, and strengthen innovation districts, this is leading to discussions about quality-of-place and placemaking. Simply put, an innovation district cannot succeed if people do not want to be there.
Any city planner will tell you that quality-of-place is not just an innovation district issue, but something that communities of all types are thinking about in the context of talent attraction and retention. Innovation districts, however, have a few unique place-based dilemmas, which Julie Wagner of the Brookings Institution, summarizes well in her article, "Innovation Districts and Their Dilemmas with Place":
The disconnect dilemma: Lack of a shared vision by district stakeholders, including business leaders, property owners, developers, etc. around a focused expertise or sector.
The dead zone dilemma: Development that creates large footprints or removes historic buildings, thus diminishing the personality of the area.
The divide dilemma: Stark borders between institutional properties and the rest of the businesses, assets, and amenities in the district that feel like barriers.
There is another dilemma that we'd add to the list — let's call it the sense-of-place dilemma. This is the human experience of a place, the feeling or perception by people who engage with the place in various ways. Wagner touches on it in her article, but we are calling it out as its own dilemma because it is so easily overlooked and so very important for creating a successful innovation district.
Often, the physical environment of an innovation district is constantly changing as it is adapted to meet the needs of its participants — buildings are renovated or replaced, roads are put on "diets," transit is rearranged, businesses are moved, housing is built, etc. For those with an entrepreneurial mindset, this ongoing disruption to the urban fabric can be welcomed and even exciting. Yet, for the many others who engage with an innovation district, the constant change can create uneasiness, and the human connection to the district as a place with meaning can be lost when things change too quickly or drastically.
Innovation districts consist of a diverse mix of participants: anchor institutions, established and startup firms, businesses that provide goods and services, housing, amenities, and entrepreneurial programs and service providers. Each of these entities engages with the district as a place in a unique way and their awareness of what else might be happening next door varies considerably. Similarly, any visitor to the district likely has no clue what is being created — they just see a vibrant place (hopefully).
Most innovation districts don't use the physical environment to tell stories or promote their brand publicly.
What to Do About It: The N2 Innovation District in Massachusetts

A few years ago, Camoin Associates worked with the Newton-Needham Regional Chamber in Massachusetts to develop a plan for developing the N2 Innovation District.
The area is home to several 1950s-era office parks, now well past their prime, a snarl of roads, and a jumble of storefronts. However, the e-commerce giant Trip Advisor had recently built a new campus in one of the office parks, and the area was also home to several successful and thriving biotechnology and IT companies.
In the 18 months since we finished our work, the Chamber has launched the N2 Innovation District with significant results. First, they raised $345,000 in support of the initiative, and its broad spectrum of partners, including the City of Newton, the Town of Needham, local educational and nonprofit leaders, and business leaders have remained engaged. A second fundraising effort is underway.
When announcing the new effort, Newton-Needham Regional Chamber President Greg Reibman said, "Together we've begun to create an environment where talent, innovation, and community converge to support a vibrant entrepreneurial economy."
A key piece of property in the center of the district has been purchased by Northland Development and their development plans are moving through the various approval processes. The mixed-use development will embrace the existing historic mill buildings, incorporate housing, a large "village green," and retail and office space. This development is expected to balance the authenticity of the older mill buildings while replacing less attractive strip malls with open space and balanced development.
A big announcement last year was the purchase of Mount Ida College, a small four-year school, by the University of Massachusetts-Amherst. The campus, which is in the innovation district, is becoming a center for student-focused experiential learning and a hub of research-industry collaboration, a huge plus for the area. Combined with the Northland investment, these two projects will be the anchors for the district going forward.
Equally important to the vision for the N2 Innovation District was the need to address significant traffic and transit issues. While painful to live through, the improvements, including a new on-ramp to I-95 are contributing to ease of access and modernization of the infrastructure in the area.
Those already within the district are celebrating its growth as new amenities and housing replacing parking lots and outdated facilities. New hotels are coming online, food trucks are showing up in the office parks, and new restaurants are opening.
Employers are also responding to the effort. Coachup, Empow, Boston Ballet, Examity, and StopShop have expanded or moved into the area. Other existing businesses have expanded, including SharkNinja, NBC Universal, CyberArk, and Karyopharm.
Candel Therapeutics, a biotech company that just closed a $22.5 million "C" round of financing, also recently announced it will move from another part of Newton into the innovation district, citing the location and facilities as conducive to a culture of innovation and creativity.
The N2 Innovation District initiative has been characterized by a uniformity of message and focused activities. Chamber events and speakers are aligned with the vision, bringing the business community along in its understanding of the economic and business benefits to the District, as well as the outcomes of the changes being made.
The initiative has also benefited from significant support from the City and Town governments, even through changes in political leadership. While there were some who were upset about the closing of Mount Ida College, most understood that the UMass-Amherst connection would be beneficial to the community.
Developers have also been part of the conversation all along, so their plans are consistent with the vision, making approval processes less contentious than they had been in the past.
Having a broad coalition of stakeholders involved from the beginning has meant that many of the "sense of place" dilemmas have been avoided.
---
If you're looking to understand how to leverage innovation and entrepreneurship in your community, check out co-author Catherine Renault's book, "Creating, Building and Supporting Entrepreneurial Ecosystems: What You Can Do," which is available for download on Amazon Kindle. This short book is both a quick introduction to the framework, and an overview of the process, with examples from around the US to give you inspiration.
---
Related Article:
"Lessons From the Field: Economic Development Corridors and Districts" (October 2016)