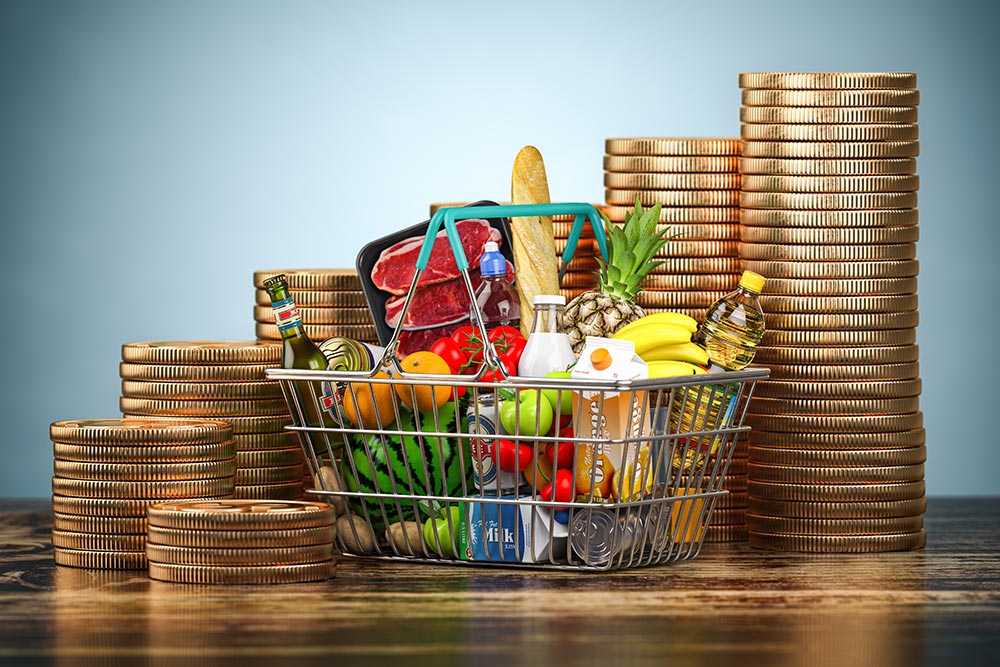 Food is universal. It is a common denominator in all equations and factors into many of our daily decisions whether that's what to eat, how much to eat, or which grocery stores and restaurants we get it from. In recent years, the rising cost of food has understandably become a growing concern for many people in the US. No matter what part of the country you live in, food bought in grocery stores and restaurants is a lot more expensive now than it was just a few years ago.
From January through April 2023, food prices went up by 7.7%, with grocery prices rising 7.1% and restaurant menu prices increasing 8.6%, according to data from the US Bureau of Labor Statistics' Consumer Price Index. Prices overall rose 4.9% throughout the year.
Most notably, between 2021 to 2022, retail food prices in the US rose by an average of 11%, the largest annual increase since the 1980s.
During that time, everyone in the US saw food prices increase, but the amount of the increase varied by location, with the highest increase in Detroit, MI (14.5%), and the lowest in Miami-Fort Lauderdale, FL (5%).
The "good" news is that the total increase in food prices this year is only expected to be between 5-10%. However, food prices are not expected to go back to where they were before the pandemic anytime soon, if ever.
The causes of these food price increases vary each year but include:
Rising inflation (inflation on food prepared or consumed at home rose 10.2% from Q1 2022 to Q1 2023)
Ongoing global food supply chain disruptions
Higher labor and transportation costs
The war in Ukraine
Extreme weather events, such as drought and flooding
Plant and animal diseases, such as the Avian flu
Continued workforce shortages in food production, farming, and transportation/shipping
The most obvious result of these price increases is that many Americans are buying less food at the grocery store. Despite that, grocery store sales numbers continue to increase, as the higher prices offset our smaller shopping lists. Food manufacturers like Kellogg (Kellanova), PepsiCo Inc, and Nestlé all reported sales growth in the first quarter of this year.
"If you look at the top-line dollar sales, it is obviously very positive," said Alastair Steel, executive, client engagement at Circana, where he works on strategy and consults for clients. "But it really is driven by price increases."
Here are a few examples of the changes in food sales vs. prices during the same time period (Q1 2022 to Q1 2023).

Grocery prices finally dipped in March 2023, falling for the first time since September 2020, according to data released by the Bureau of Labor Statistics in April. The following month, grocery prices continued to fall. But food inflation is still outpacing inflation overall in the US, and grocery prices are still quite a bit higher than they were last year.
Some food corporations have said that they are slowing their rate of price increases. PepsiCo, for example, has said that it won't need to raise prices much more this year. "The majority of our pricing is already done," said CEO Ramon Laguarta during an April analyst call.
But that is different from lowering prices altogether.
"I don't believe that price is going to come down," said Steel. "The rate of increase is starting to slow down and stop. But it's not completely gone away. We are still seeing prices, month over month, they are still going up — although much less than they were."
How to Stretch Your Food Budget
Food prices probably won't decrease substantially anytime soon, so what can consumers do to stretch their food dollar? Preparation is important. Have you ever gone to the store with a simple list and found yourself leaving with way more food than you intended to buy—and a thinner wallet? It's not a mistake: Grocery stores use a variety of tools to encourage you to spend more money.
Become a more informed consumer by keeping an eye out for some of these slick tactics at your grocery store and keep more of your money in your pocket.
Free Samples
Anything labeled "free" is enticing, but these bite-sized samples give you just enough of a taste to lure you into buying the full-sized item instead of sticking to your shopping list.
"More" Meat
You may have noticed that some of the meat sold in grocery stores have a note on the label that says a saline solution has been added. That means that the giant piece of steak you're holding has been injected or soaked with water. It may seem harmless, but it gives the meat more weight, which means you are paying more for less meat.
Larger Grocery Carts
Grocery stores have slowly been expanding the sizes of their carts. The reason behind this cart size increase is so you load up more food in your cart without even noticing! To make sure you don't overindulge on your next trip to the grocery store, try using a hand-held shopping basket instead to limit the number of items you can grab.
Higher Priced Eye-Leveled Items
The first place you look when searching for a product in an aisle is eye-level. Supermarket owners know that, so they place the most expensive items on the middle shelves. To save a few bucks, always look at the bottom and top shelves to find cheaper prices.
10 for 10 Special Deals
When you see 10-for-$10 deals, you think you're saving money by grabbing a few of these items in bulk for just a buck each. But, if you read the fine print, you'll notice that many sales like these still apply when you buy less than the advertised amount. So, don't load your cart with tons of the same item (which will probably expire before you even get to finish it all anyway); just grab as many as you need. However, always read the fine print, because some 10-for-$10 deals only qualify if you buy the advertised amount — but ask yourself if you really need 10 jars of salsa.
Store Layout Changes
Layout changes are not only confusing, but they're also a money-making tactic used by grocery stores. Every now and then, grocery stores switch up the store aisles, so you end up accidentally coming across items that you didn't need but still end up putting in your cart. Always read the aisle signs, no matter how frequently you shop.
Taking Advantage of Your Senses
The deli, bakery, and flower shop are not just placed at the front of the supermarket for your convenience. They are the best-smelling items, and those smells can trigger your hunger. Supermarkets use your sense of smell against you by making you hungrier, which causes you to fill up your cart more and spend more money.
Prices Ending in $.99
What's the deal with prices ending in 99 cents instead of being rounded off to a flat dollar? It may seem like a randomly odd tactic, but it's a genius way to make you spend more money. Ending prices with 99 cents (or other odd numbers) tricks you into thinking that you're getting a product much cheaper when the true savings are as little as a penny. One particular retailer often reduces prices ending in $.99 to $.97 for clearance items just to tempt those penny pinchers. Is the two cents' savings really worth it?
One-stop-shop retailers are great at saving you money on gas, but will you spend the money you save buying higher-priced items that will break your grocery budget?
Here are some tried and true ways to save money at the grocery store:
Make a weekly meal plan, including snacks, and stick to it; or plan meals around sale items
Shop alone if possible to reduce impulse buys
Buy generic or store-brand products
Clip coupons and sign up for your favorite store's shopping app to access even more deals and weekly sales information
Don't buy hygiene products at the grocery store; you can find them for less elsewhere
Join grocery store loyalty programs to get access to exclusive deals, coupons, and even cash off at your next visit
If you are easily tempted to overbuy, take advantage of curbside pickup services offered by many grocery stores and avoid the temptation entirely
Buy produce that's in season; out of season fruits and vegetables are always more expensive