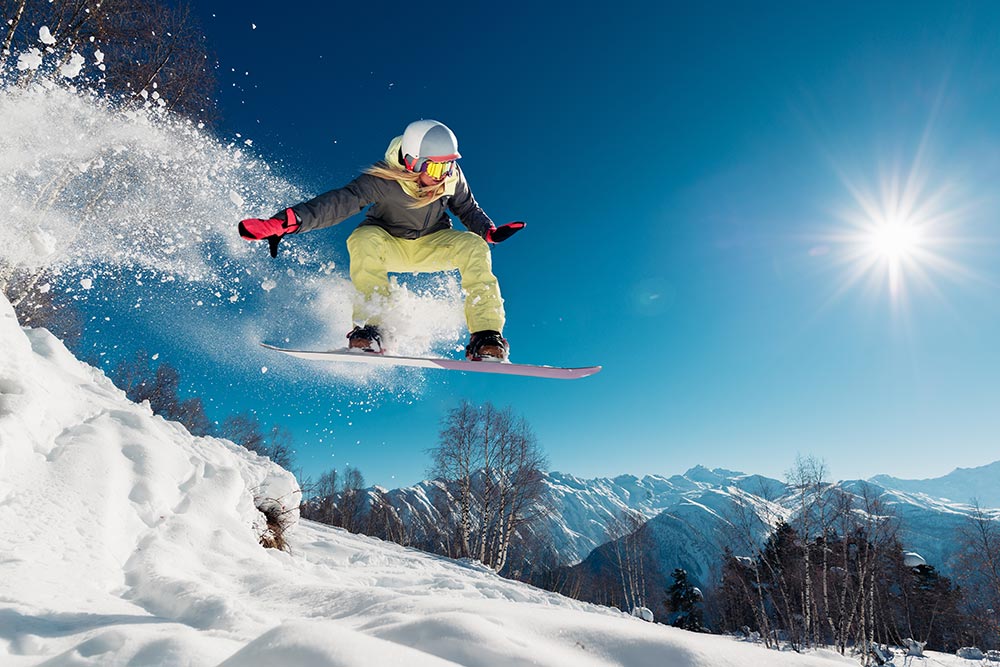 This year, Ski Ward, a 45-acre ski and snowboard resort in Shrewsbury, MA, was the surprise winner of the informal annual competition to be North America's first outdoor ski resort to open during the season. This honor is typically awarded to ski resorts in the Colorado Rockies with regular winners including Arapahoe Basin, Loveland, and Wolf Creek.
The race to be the first ski resort to open is often tight, competitive, and expensive. For example, in 2019, multimillion-dollar upgrades to Keystone Resort's snow-making system allowed it to move up its opening date to October 12. The resort announced its plans to open on the morning of October 11 and for a brief moment, it appeared as though it would be the first North American resort to open. However, within hours of Keystone's announcement, Arapahoe Basin responded by moving up their opening day to October 11 at 3:30 pm.
Arapahoe Basin ran its chairlifts for two hours that afternoon and was once again the unofficial winner of the unofficial race to open first. With all the excitement and hype surrounding opening early, is there actual value in being the first resort to open?
In a 2017 interview with the Denver Gazette, Loveland's Marketing Director John Sellers said, "The free media exposure that comes with being the first to open, that's extremely valuable. It's also extremely important to our pass holders. Everybody's eager to ski after a long, hot summer. So, the sooner we can start running lifts for loyal customers the better."
Arapahoe Basin's Chief Operating Officer, Alan Henceroth, echoed Sellers in a 2021 interview with 5280 Magazine, saying, "Looking at the number of mentions and impressions of being first to open, when you convert it to dollars, the marketing guys will tell you that it's worth in the millions."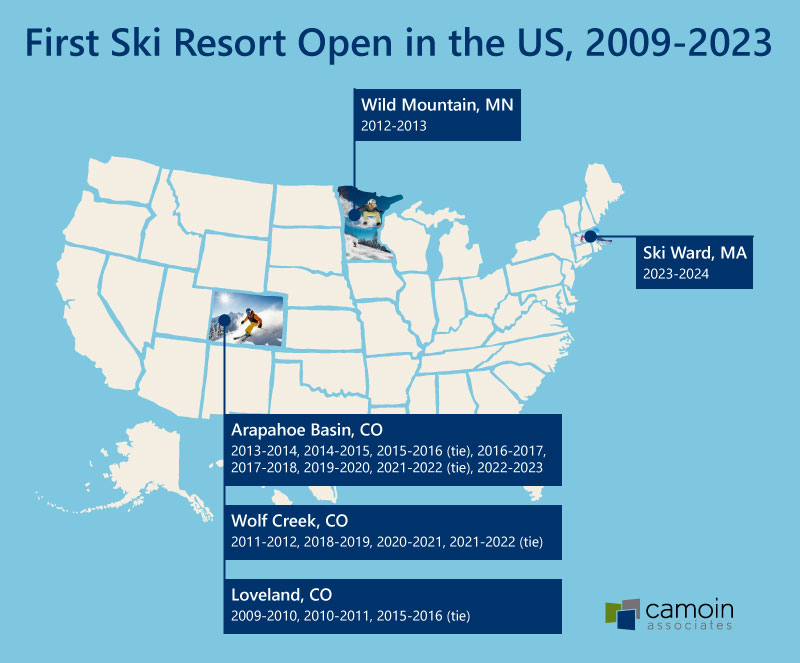 Multi-Resort Season Passes Gain Popularity
Historically, the number of skiable days per season a single resort could offer was a major selling point and something locals considered when purchasing a season pass. However, a market shift began in 2008 when Vail Resorts Management Company (Vail Resorts) introduced the Epic Pass. Priced at $579, the first Epic Pass offered skiers and snowboarders unrestricted access to five well-known Colorado ski resorts plus California's Heavenly Resort. For comparison, a 2008-2009 season pass to Colorado's Steamboat Resort was $979.
The Epic Pass allowed Vail Resorts to market one product to skiers and snowboarders in two regions. During the next 15 years, Vail Resorts continued purchasing ski areas and adding them to their pass. Currently, the Epic Pass offers unlimited access to more than 40 ski resorts on three continents.
In 2018, the ski resort conglomerate, Alterra Mountain Company (Alterra), introduced its Ikon Pass. The first and only real competition for the Epic Pass, the Ikon Pass expanded upon the concept by offering access to an even larger number of ski resorts in multiple countries throughout the world. Both passes include access to year-round skiing and snowboarding if pass holders are willing to travel. These year-round offerings may potentially minimize the importance of what resort opens first.
While the prices of some season passes are lower now than they were in the early 2000s, the cost of most single-day lift tickets have increased substantially. During the peak 2006-2007 season, a single-day lift ticket for Vail Mountain Resort was $92 (approximately $120 in 2022 dollars). That same single-day ticket was priced at $275 during the 2022-2023 season.
Using pass pricing as a tool, Vail Resorts and Alterra have successfully pushed even casual skiers and snowboarders away from single-day tickets and toward season pass purchases. According to the National Ski Area Association, the 2019-2020 season was the first time ski resorts recorded more skier days on season passes than on day-use lift tickets. A trend that continued in the following three seasons.
Length of the Season Still Matters to Ski Resorts
While a season pass is now the most cost-effective choice for skiers and snowboarders who visit a resort more than five times per season, what pass they purchase relies heavily on the consumer's location and preferences. In some cases, those preferences still include the length of the ski season.
Vail Resorts relies on Keystone Resort and Breckenridge Resort to compete with the longer seasons offered by other Colorado resorts. Keystone is typically one of the first resorts to open in North America while Breckenridge is one of the last ski resorts to close. Over the last three seasons, the two resorts combined have offered Epic pass holders an average of 203 days for skiing and snowboarding (skiable days).
Ikon pass holders in Colorado typically have fewer skiable days at their unrestricted access resorts. During the last three seasons, Copper Mountain offered Ikon pass holders an average of 157 skiable days. As a partner of Altera, Arapahoe Basin offers limited access to Ikon pass holders but only gives unrestricted access to their season pass holders. Offering an average of 221 skiable days over the last three seasons, Arapahoe Basin charges more than $600 for a season pass. Since 2020, the ski area has limited season pass sales and has consistently sold out.
Much like Arapahoe Basin, unrestricted access to Loveland Resort is only attainable through the purchase of a $600+ Loveland-specific season pass. The resort, which has offered skiers and snowboarders an average of 184 skiable days over the last three years, remains independent from Altera and Vail Resorts. According to Sellers, they are happy with their loyal clientele and aren't interested in being part of one of the larger passes.
Since the introduction of the Epic Pass in 2008, ski resort access and season pass sales have undergone dramatic transformations. Even through all the changes, however, it appears as though many skiers and snowboarders are still heavily invested in what resort opens first and what resort closes last.
Another important consideration in the future viability of ski resorts is climate change, which is already impacting snow conditions and season lengths in many locations. In response, many resorts have been getting more involved in efforts to combat climate change.
Camoin Associates is a national leader in using research and data analysis to help industries, communities, and organizations understand where they are now and develop actionable, equitable goals designed to get them where they want to be. Learn more about our services.