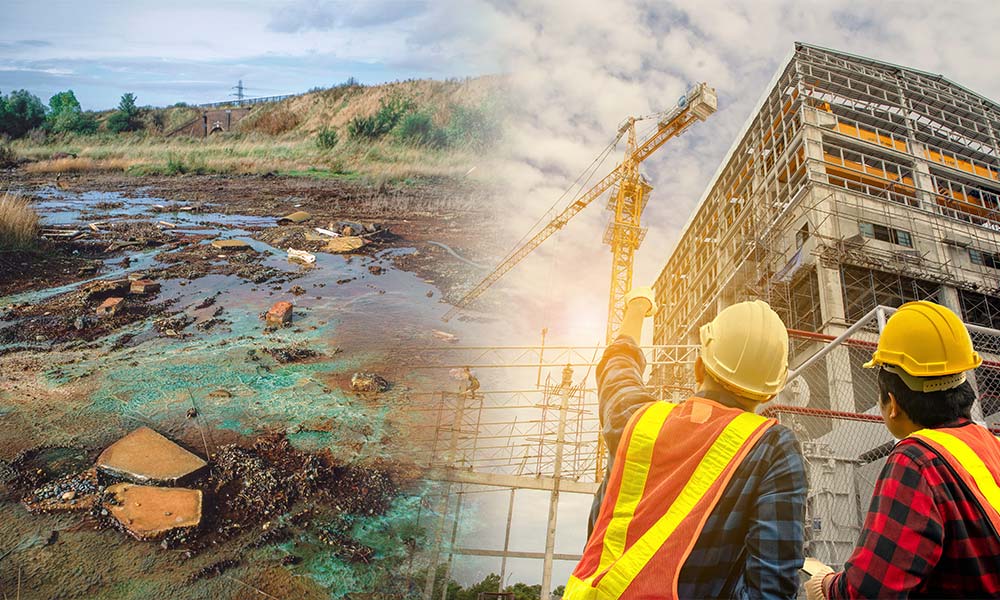 Abandoned brownfield sites, often seen as symbols of neglect, hold untapped opportunities for transformation.
While grand visions may capture our imagination, it is crucial to delve into practical ideas that can genuinely revitalize these spaces, making them vibrant and functional once again.
This article explores 10 practical ideas for breathing new life into neglected brownfield sites that offer tangible benefits to both communities and the environment and transform them into vibrant and functional spaces. From mixed-use developments and adaptive reuse to green spaces and affordable housing, these concepts offer viable solutions to unlock the potential of these forgotten sites.
By embracing these ideas, communities can rejuvenate forgotten landscapes, foster economic growth, promote sustainability, and create lasting positive impacts.
1. Mixed-Use Developments
Revitalizing brownfield sites through mixed-use developments offers a pragmatic avenue for transformation. By integrating residential, commercial, and recreational spaces within a cohesive plan, community integration is fostered, convenience is enhanced, and land utilization is maximized.
Examples:
2. Adaptive Reuse
Embracing adaptive reuse presents a sustainable and thoughtful approach to brownfield redevelopment. Repurposing existing structures, such as converting old factories into modern office spaces or warehouses into creative lofts, not only preserves historical value but also reduces demolition waste, breathing new life into the site while maintaining its character.
Examples:
3. Greenspaces and Parks
Integrating greenspaces and parks into brownfield sites provides much-needed recreational areas for communities. By transforming vacant lots or contaminated areas into beautifully landscaped parks, residents can enjoy nature, exercise, and socialize. This idea enhances quality of life, improves mental well-being, and fosters a sense of community pride. These spaces can also catalyze private investment and revitalization of surrounding properties.
Examples:
4. Affordable Housing
Addressing the pressing need for affordable housing, redeveloping brownfield sites for this purpose has a tangible impact on communities. Designing affordable housing complexes or mixed-income developments not only provides safe and affordable homes but also promotes diversity, social equity, and economic stability within the neighborhood.
Examples:
5. Community Gardens and Urban Agriculture
Establishing community gardens and urban agriculture initiatives on brownfield sites contributes to food security and sustainability. By converting unused land into plots for residents to grow their own produce, communities can engage in healthier eating habits, promote local food production, and foster a sense of community through shared gardening spaces.
Example:
In Austin, TX, brownfield redevelopment has led to the creation of a Public Food Forest that brings the community together to tend the land, learn how to harvest, and eat straight from the ground.
6. Light Industrial and Manufacturing Zones
Repurposing brownfield sites as light industrial and manufacturing zones supports local economies and job creation. By providing spaces for small-scale manufacturing, workshops, and start-up incubators, these sites attract entrepreneurs, foster innovation, and stimulate economic growth while utilizing existing infrastructure.
Examples:
7. Renewable Energy Installations
Harnessing the potential of renewable energy, brownfield sites can be transformed into solar or wind energy installations. By repurposing these areas for clean energy generation, we can contribute to a sustainable future while utilizing often unproductive or contaminated land for a positive environmental impact.
Example:
Woodbridge, NJ, used this development strategy to transform an abandoned chemical manufacturing plant along the waterfront into a natural gas power plant.
8. Transit-Oriented Developments
Strategically redeveloping brownfield sites into transit-oriented developments promotes sustainable transportation options. Situating these developments near public transportation hubs enables residents to enjoy easy access to buses, trains, or light rail systems. By encouraging walkability and reducing reliance on private vehicles, this concept supports greener and more efficient commuting.
Examples:
Transit-oriented development can be found in Brea, CA, and Atlanta, GA, where abandoned railroads have been turned into multi-use trails.
9. Educational Facilities and Training Centers
Transforming brownfield sites into educational facilities or vocational training centers benefits communities by providing access to quality education and skills development. These sites can be transformed into schools, colleges, or vocational training institutes, empowering individuals, and fostering economic growth through knowledge and training.
Examples:
10. Historic Preservation
Preserving and restoring historical buildings on brownfield sites not only pays homage to the past but also contributes to cultural heritage and tourism. By rehabilitating these structures while complying with modern building codes, we can retain architectural beauty and historical significance, attracting new residents, visitors, and businesses, and supporting local economies.
Examples:
Ambitious visions may capture our imagination, but it is the more realistic ideas for brownfield site redevelopment that have the power to transform communities in practical and tangible ways.
While the path from brownfield to reuse can be complex, by embracing realistic ideas and working with knowledgeable experts, it is possible to revitalize these sites, creating lasting positive impacts for the surrounding communities.
If you are considering brownfield redevelopment and require assistance with market feasibility studies, reuse scenario visioning and evaluation, revitalization planning, or site disposition strategies, look no further. Camoin Associates' Real Estate Development Team is renowned for its expertise in brownfield redevelopment.
Our staff has produced award-winning plans and possesses a deep understanding of the complex challenges associated with brownfield properties. We excel at crafting unique redevelopment strategies tailored to each individual project. Learn more about our Brownfield Redevelopment Services.