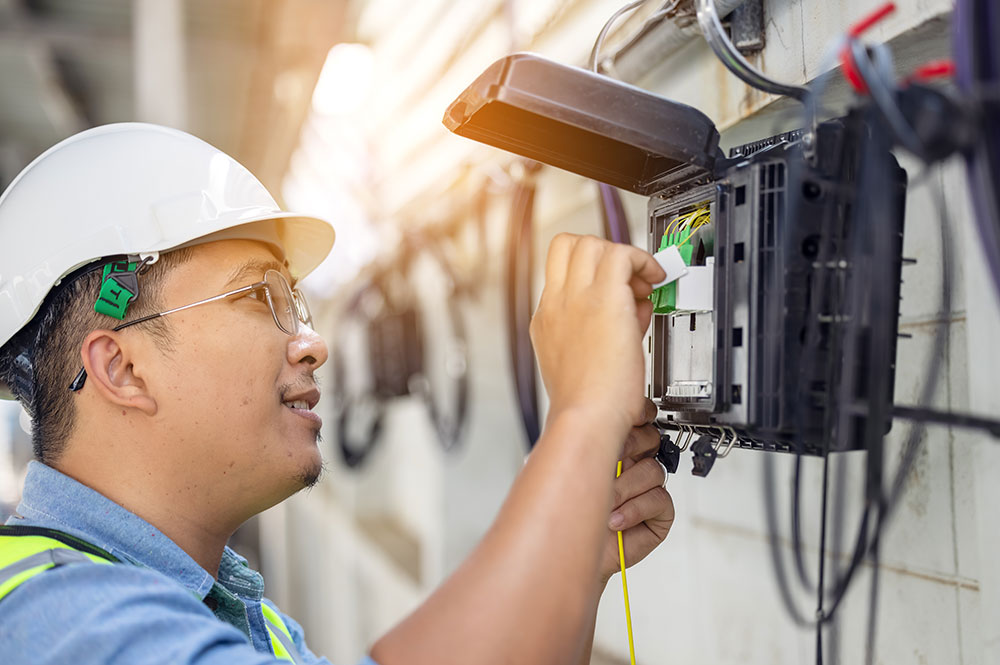 In today's digital age, the availability of reliable high-speed internet access is crucial for communities to thrive and compete in the global economy. If we learned anything from the COVID-19 pandemic, it is how essential it is to have reliable broadband access connecting Americans to work, education, healthcare, communities, and the world. Fiber broadband is a catalyst for economic growth and supports remote work opportunities, quality education, and improved healthcare services.
Approximately 42 million Americans do not currently have access to reliable internet. To address this gap in broadband coverage, the Broadband Equity and Deployment (BEAD) initiative aims to bring high-speed internet to the estimated 13.1 million unserved and underserved communities in the country.
The Fiber Broadband Association (FBA) estimates that more than 200,000 new jobs will need to be created to handle the demand from the expected growth in the Telecommunications industry resulting from the BEAD initiative, particularly for the fiber optic technicians needed to ensure successful fiber broadband infrastructure deployment nationwide.
This presents a unique nationwide labor challenge for the Telecommunication industry, which is currently facing a shrinking labor pool in an ever-tightening labor market, a general lack of career awareness among job seekers and negative perceptions of the skilled trades, and a lack of standardized training programs and the credentials required for broadband workers.
To overcome these obstacles, each state and territory that receives BEAD funding must develop a comprehensive workforce development strategy that prioritizes skills training and the development of robust talent pipelines. Failure to address this issue may result in a labor shortage, impeding the delivery of BEAD-funded Broadband projects.
As US states and communities invest in expanding their broadband infrastructure, it is essential that they also prioritize the development of a skilled and capable workforce that can help them effectively capitalize on these infrastructure investments.
By leveraging the information and concepts outlined in this article, states and communities can learn how to maximize the benefits of broadband investments, bridge the digital divide, and create economic opportunities for their residents.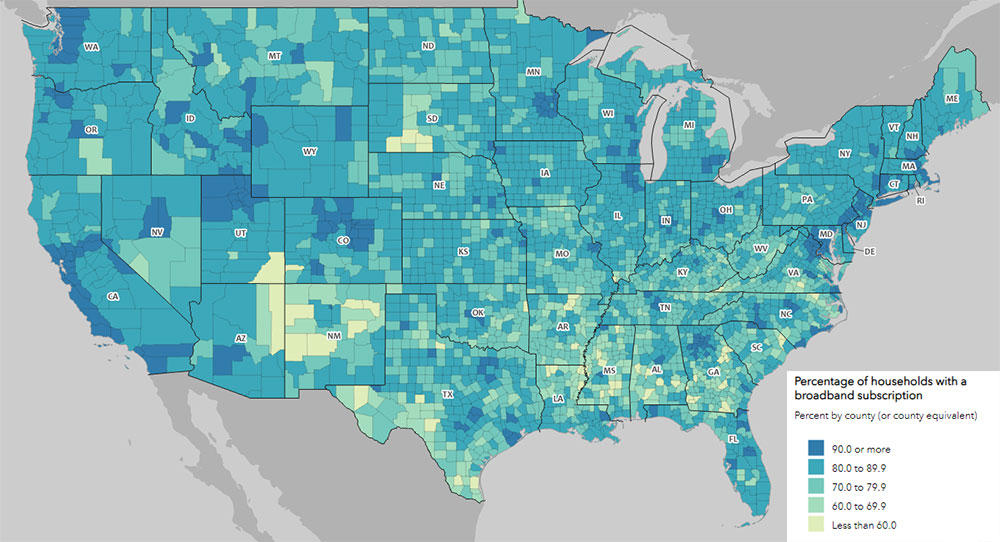 The US Census Bureau's Access Broadband Dashboard shows large sections of our country do not have adequate internet access.
Understanding the Importance of Workforce Development in Broadband Expansion
Efficient Implementation of Broadband Projects on Accelerated Timelines
The successful implementation of fiber and high-speed internet access projects requires workers with diverse skills, including skilled trades, technicians, engineers, network administrators, and IT professionals.
By identifying the most in-demand occupations essential for broadband investments, states and regions can establish targeted training programs to ensure an adequate supply of skilled workers and streamline the implementation process.
A well-trained and readily available workforce will expedite the deployment of broadband infrastructure, minimizing project delays and ensuring timely completion. This allows communities to reap the economic benefits of broadband investments sooner, including enhanced connectivity, improved business opportunities, and enhanced quality of life for residents.
Camoin Associates and other firms engaged in the development of workforce strategies can provide guidance and direction on what positions, training programs, and career paths are essential to implementing a comprehensive workforce strategy with a streamlined approach and timeframe.
Enhanced Local Job Creation, Equity, and Economic Competitiveness
Broadband expansion will create long-term job opportunities in areas such as customer service, technical support, infrastructure maintenance, network management, and digital entrepreneurship. By aligning training programs with the specific skill sets required by the Broadband industry, communities can foster job creation and provide quality career pathways for their residents.
Communities equipped with a skilled workforce capable of leveraging broadband infrastructure will, in turn, attract companies seeking a technologically advanced environment. These new companies and industries will then boost local economic competitiveness and stimulate job growth, driving overall economic prosperity.
Implementing workforce development strategies ensures that all residents, including marginalized groups and underrepresented populations, have the necessary training and support to make the most of their community's investment in high-speed internet. This approach empowers individuals through digital literacy, job opportunities, and the ability to participate fully in the digital economy, promoting diversity.
Women represent a growing percentage of workers entering broadband industry professions. In Maine, there has been an increase in the number of women responding to the opportunities being presented as part of the state's recent investment in broadband. According to the Maine-based company Hawkeye, one out of every seven people they hire is female, which is still disproportionate, but is higher than the number of women working traditional fiber and broadband jobs.
There are efforts underway to change the inequity, lack of diversity, and lack of opportunities for women in the industry, such as the Fiber Broadband Association's Women in Fiber Committee. That committee states that it "believes the world is a better place when women's voices are heard. We believe companies are more successful when women are encouraged and rewarded to reach their full potential. We believe it is up to us to help identify, develop, and promote women in the Fiber Broadband industry as well as Technology, Telecommunications, Construction, and Manufacturing."
Key Strategies for Workforce Development in the Broadband Industry
Integrating a Comprehensive Broadband Workforce Development Strategy
Collaboration between federal and state officials, private sector entities, and nonprofits is essential to leverage the unprecedented funding allocated to broadband projects. Effective solutions can be developed by addressing skills gaps, creating training partnerships, reducing barriers to training and employment, and building upon existing workforce development efforts.
State broadband offices can effectively address critical needs by incorporating workforce development into their strategic planning, which can be paid for with BEAD funding. This approach allows for the creation of partnerships, expands program awareness, facilitates funding distribution, and aligns broadband program goals with statewide workforce development objectives.
When developing a broadband workforce program, it is important to consider all stages of connectivity, from infrastructure deployment to digital literacy efforts. It's just as important to also identify the necessary positions and skills required for the successful completion and sustainable operation of broadband projects.
Assessing Workforce Needs, Anticipating Workforce Gaps, and Making Data-Driven Decisions
Before embarking on workforce development initiatives, states and territories should complete a comprehensive assessment of their current and future workforce needs.
This involves analyzing the supply and demand for broadband professionals, identifying skill gaps, and understanding the evolving technological landscape. By aligning training programs with industry needs, states and territories can ensure that their workforce is equipped with the right skills and competencies.
The following are key steps to take to better understand existing workforce needs, anticipate workforce gaps, and make data-driven decisions for long-term success:
Conduct a workforce gap analysis to estimate the disparity between labor demand and the projected availability of skilled workers.
Collect and analyze data on workforce demand, skill gaps, and program outcomes to help make informed decisions and refine workforce development strategies.
Focus on prioritizing diversity, equity, and economic mobility every step of the way.
Incorporate inclusive-centered frameworks, coordinate service delivery, and address barriers to workforce participation. Mitigating obstacles such as physical constraints, language options, and access to childcare will help ensure the success of your program.
Regularly assess the effectiveness of training programs, job placement rates, and career advancement opportunities to measure success and identify areas for improvement.
Taking these steps will help communities make decisions in an effective and streamlined way, and will help key stakeholders better understand their roles throughout the different phases of the process.
Assessing the existing workforce landscape and generating skill and labor gap analyses is one of the things firms like Camoin Associates do best — especially as part of a larger workforce development strategy. Doing this work can help communities be more competitive in the search for skilled workers in the current labor availability landscape.
This image highlights the various stakeholders that are vital to the development of a healthy broadband workforce ecosystem. Each stakeholder plays an important role and it is critical that a comprehensive workforce strategy includes all of them. Image source: Fiber Broadband Association's Broadband workforce development guidebook
Stakeholder Engagement: Forming Strategic Partnerships, Launching Training and Education Initiatives, and Increasing Awareness
Engaging key stakeholders and forming strategic partnerships is key to a successful broadband workforce development strategy. The following steps should be considered when determining which organizations and stakeholders should be engaged and what types of initiatives should be implemented:
Identify local and national partners who can contribute to the success of the broadband workforce development strategy.
Engage with educational institutions, workforce training programs, industry associations, and community organizations to leverage their expertise, resources, and networks leading to more holistic and impactful programs.
Collaborate with broadband providers, technology companies, and government agencies to align training programs with industry needs and ensure job placement opportunities.
Develop training programs that cater to different skill levels and target a diverse range of individuals, including students, job seekers, and incumbent workers.
Offer certifications, apprenticeships, and internships to provide hands-on experience and enhance employability. Partner with educational institutions to integrate broadband-related coursework into curricula to give students the necessary skills for the industry.
Promote lifelong learning opportunities for broadband professionals to keep pace with evolving technologies and industry trends, which encourages continuous learning and professional development.
Offer professional development courses, workshops, and webinars to enhance broadband workers' skills and knowledge. Encourage participation in industry conferences and events to foster networking and knowledge exchange.
Launch public awareness campaigns to inform communities about the benefits of broadband expansion and the available workforce development opportunities.
Target underserved areas and marginalized populations to ensure equitable access to training programs. Collaborate with community organizations to reach individuals who may face barriers to participation, providing tailored support and resources.
Funding and Resource Allocation
Leveraging Federal and State Resources, Public-Private Partnerships, and Resource Allocation
Federal BEAD planning funds have already been awarded to states and territories throughout the country, however, there are other funding programs available for broadband workforce development. Each state's broadband office is a great place to gather information and research regarding funding opportunities within your state.
The National Telecommunications and Information Administration (NTIA) has launched the "Internet for All" funding opportunities, which includes the BEAD program, as well as a program called the "State Digital Equity Act," which is meant to help foster digital equity and inclusivity. That program's objective is to guarantee that individuals and communities possess the necessary skills, technology, and capacity to fully capitalize on the advantages offered by our digital economy.
Because the funding from programs created by the NTIA will not cover all expenses, we recommend that communities take the following steps to tap into the different funding options available and use those funds most effectively:
Research federal funding programs and grants specifically designed to support broadband infrastructure and workforce development initiatives.
Collaborate with state agencies and policymakers to secure additional funding and resources for local training programs, scholarships, and infrastructure projects.
Forge partnerships with private sector entities, including broadband providers, technology companies, and philanthropic organizations.
Seek and identify state agencies for financial support, expertise, and resources to supplement public funding and enhance the scalability and sustainability of workforce development programs.
Establish grant programs and scholarships that provide financial assistance to individuals pursuing broadband-related training and education for the continued development of the workforce.
Ensure that resources, such as training facilities, equipment, and instructional materials, are allocated effectively to support training programs. Identify and use existing infrastructure and facilities, collaborate with educational institutions, and explore innovative approaches such as virtual training platforms to optimize resource utilization.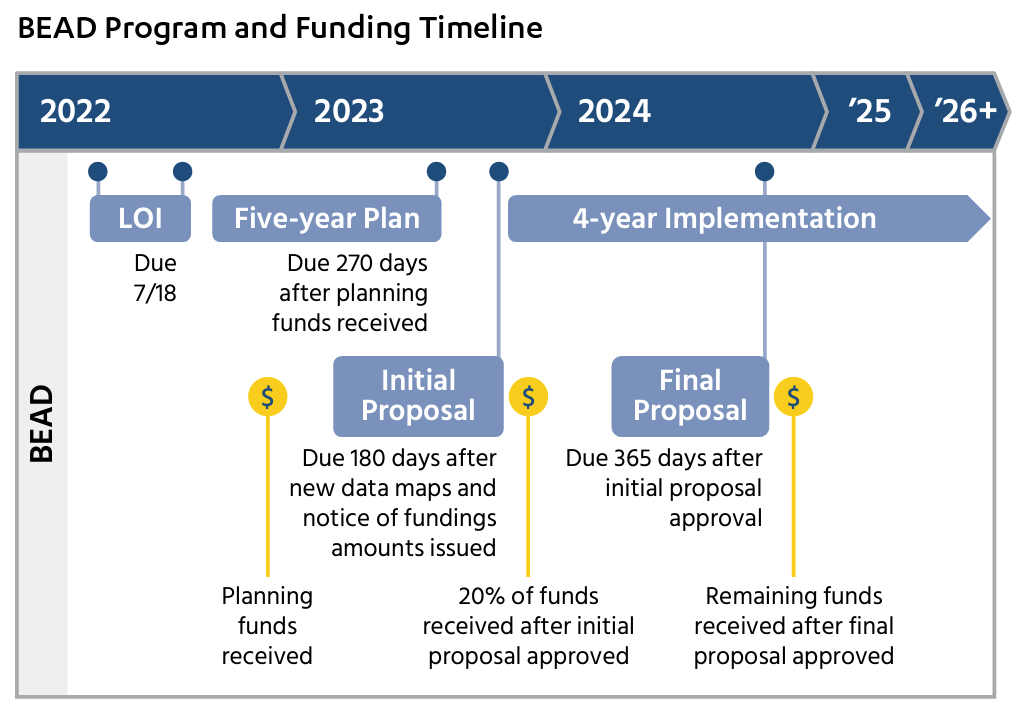 The image above highlights the BEAD program funding timeline, which shows the different phases of the BEAD program states and other stakeholders should be aware of. Image source: Fiber Broadband Association's Broadband workforce development guidebook
Lastly, states and territories should encourage public-private collaborations to help fund initiatives that will create opportunities for residents from all backgrounds to enter the broadband workforce. Collaboration between public entities, private enterprises, and internet service providers (ISPs) has significant advantages in terms of funding and specialized know-how.
Public and private cooperation initiatives facilitate the exchange of resources, expertise, and infrastructure, which can help expedite the expansion of broadband services and workforce development efforts. These collaborative endeavors can be solidified through contractual arrangements that delineate the roles, obligations, and financial investments of each participant.
Workforce Development Strategies in Action
State of Maine
One specific example of the work Camoin Associates has completed in the area of broadband workforce development is the project we completed for the Maine Connectivity Authority (MCA). Through data analytics and stakeholder interviews, Camoin Associates determined that occupations such as fiber optic technicians, network engineers, and data analysts would be crucial for the success of the state's broadband initiatives. We projected the demand for these occupations based on different investment scenarios, allowing the state to make informed decisions about resource allocation and training programs.
Camoin Associates then created occupation profiles for each critical occupation, detailing the specific skills, certifications, and qualifications needed, and identifying feeder and next-step occupations. We also crafted specific strategies to address employer and workforce needs, with a focus on promoting diversity, equity, and inclusion, and removing barriers to employment. Learn more about this project.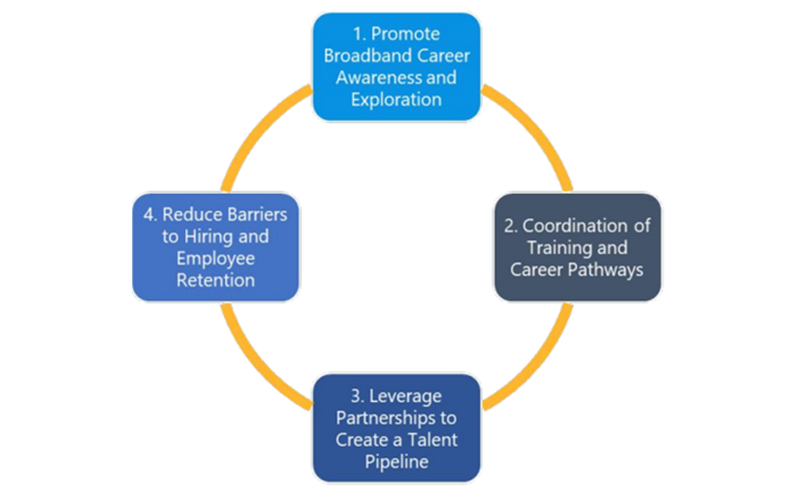 This image highlights the four main steps Camoin Associates recommended the MCA to pursue as part of its workforce strategy. Image source: "Maine Broadband Workforce Analysis and Strategy" completed by Camoin Associates, in conjunction with the Maine Connectivity Authority and Thomas P. Miller and Associates
The MCA and other key stakeholders in Maine attended the White House announcement of the BEAD funding allocations on June 27, 2023. Andrew Butcher, President of the MCA, stated on LinkedIn that "A historic investment of $272M is coming to help bridge the digital divide. But this is just the start and the Maine Connectivity Authority is ready to meet the moment …" Part of the reason that they are "ready to meet the moment" is because they have a strategy in place (that also addresses workforce development) that will help guide them through the continued development of broadband access in their state.
State of Louisiana
Louisiana's broadband office, Connect Louisiana, is using a three-pronged approach to address its workforce shortage, which helps empower underserved communities to expand their broadband infrastructure.
First, it partnered with community colleges across the state to facilitate the development of specialized training and certification programs focused on broadband.
Second, it encourages communities that apply for its Granting Unserved Municipalities Broadband Opportunities (GUMBO) program to collaborate with their local community colleges and align their workforce needs with the available training and certification programs.
Finally, Connect Louisiana organizes regional workforce summits to promote collaboration between industry partners and local programs.
State of Ohio
In September 2021, the Ohio Governor's Office of Workforce Transformation, and the state's broadband office, BroadbandOhio, released "Strengthening Ohio's Broadband & 5G Workforce," a strategy to help the state meet the growing demand for a telecommunications workforce.
This plan was drafted after the state engaged a range of stakeholders, including internet service providers (ISPs), industry groups, and two- and four-year colleges, to assess the needs and challenges faced in the broadband workforce. It also called for the establishment of a Broadband and 5G sector partnership to ensure that the State would meet its goals.
In January 2022, Lt. Gov. Jon Husted announced Ohio State University had been awarded $3 million from the Governor's Emergency Education Relief Fund to design a curriculum for the sector partnership to develop a skilled broadband workforce. Once completed, the curriculum will be made available to all higher education institutions in Ohio for implementation.
The State has further developed its strategy and recently released an updated version titled, "Vision and Pillars of the 2023 Ohio Broadband Strategy," with the following high-level goals:
Ensure that all Ohio residents have access to dependable, cost-effective, and fast internet services, both in their households and localities.
Encourage the establishment of exceptional broadband infrastructure across the state, utilizing cutting-edge technologies.
Facilitate engagement in the contemporary economic landscape.
Strengthen Ohioans by providing training, device availability, and proficiency in digital skills.
There is no standardized "one size fits all" approach because every state has its own unique circumstances, challenges, opportunities, and stakeholders. One thing that does unite them is a focus on creating and sustaining strong partnerships with key stakeholders with a vested interest in the achieving the same goals around broadband expansion. This requires a customized approach and well-researched strategy that fits that state's specific needs and current workforce situation, assesses skill gaps and available resources (or lack of resources), and determines the best use of funds moving forward.
Putting It All Together: Creating a Comprehensive Strategy
In order to maximize the benefits of the nation's investment in broadband expansion, it is essential that states and territories first create a skilled workforce capable of driving economic growth, bridging the digital divide, and promoting equity and inclusion.
With the right investments, collaboration, and strategic planning efforts, broadband workforce development initiatives can position communities for long-term success in the digital economy. Together, let's build a skilled workforce that powers the broadband expansion needed for a connected and inclusive society.
Camoin Associates' Workforce Development and Talent Retention team can help states, communities, and other stakeholders within the broadband supply chain develop comprehensive workforce development strategies, ensuring that states and regions have a pipeline of skilled workers who can implement broadband initiatives effectively.
We can help evaluate the most in-demand occupations needed for broadband investment, create projections for talent supply and demand, then assist with mapping out training gaps and career pathways to establish the labor pipelines needed to achieve an investment of this scale. Learn more and contact us to get started.