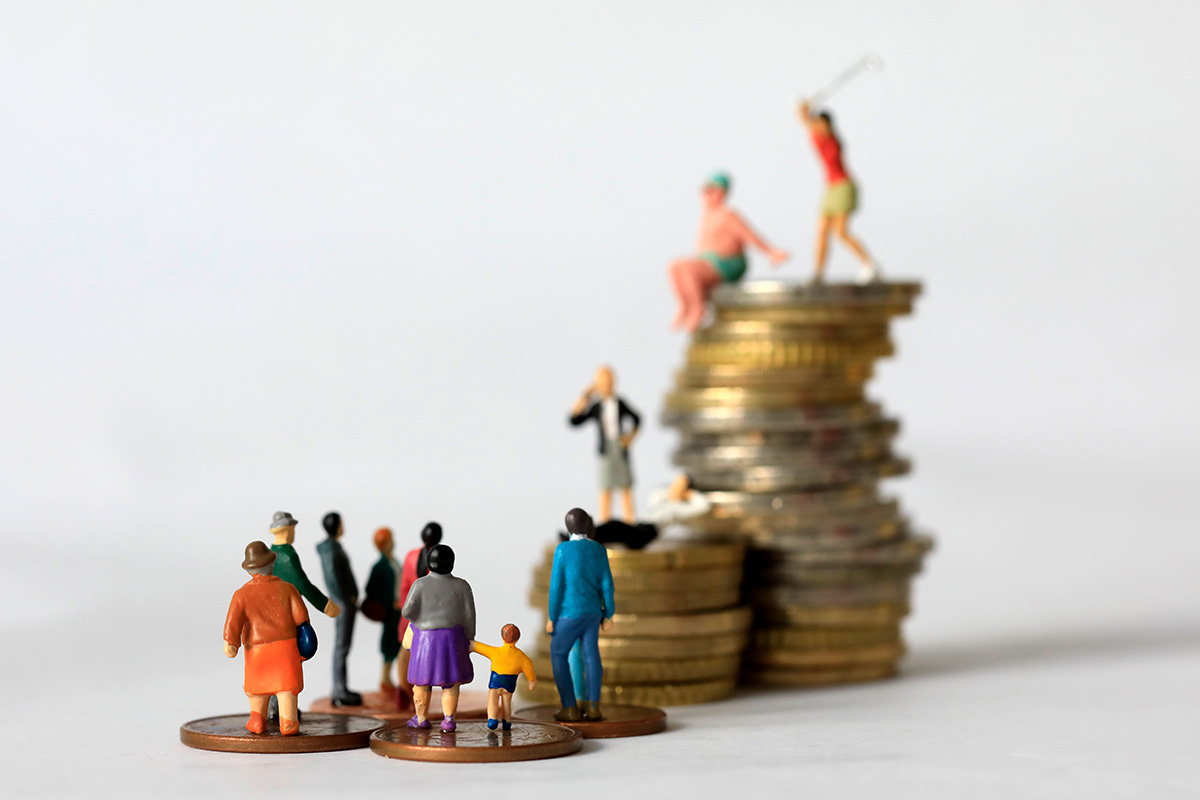 The economic landscape related to wages and income inequality has been shifting rapidly in the United States in the wake of COVID-19. At the height of the pandemic, we didn't know what the potential impacts on wages might be, particularly for low-wage and public-facing occupations. These occupations were the most vulnerable when faced with shutdowns, changing consumer behaviors, and social distancing, and had the biggest potential to rapidly worsen income inequality throughout the economy. So, three years later, how did the situation play out?
Despite an unprecedented and deep economic shock at the start of the pandemic, there were encouraging signs in the following years that pointed toward major wage gains that could reduce income inequality. From 2019-2022, wage gains were most significant for occupations at the bottom 10% of average earnings.
On average, the lowest-paying occupations, those at the 10th percentile or lower[1], saw an almost 9% jump in average hourly earnings, compared to a 2.6% increase for occupations in the top 10%.
This jump was significant because, historically, wage gains have skewed heavily towards the top of the income spectrum, leaving low-wage workers struggling to keep up. Moreover, these occupations tend to be the ones that were hardest hit by the pandemic.
For example, occupations like fast food workers, home health aides, and restaurant cooks saw the deepest job losses in 2020, but they were also among those posting wage gains of over 10% during the same period. In the wake of the pandemic, these occupations faced challenges like face-to-face contact, shutdowns, and structural shifts. However, due to a myriad of factors, their compensation increased.
It's important to note the scale of workers that benefited from these gains. Although these occupations fall into the bottom 10% by average wages, this group encompasses almost 41 million workers nationally — almost 25% of the workforce — and the largest group of workers in the economy. In other words, the largest group of workers in the national workforce have jobs in occupations that pay the bottom 10% of wages. That said, over 14 million workers in the lowest-paying jobs saw their earnings grow by over 10% from 2019-2022.
Unfortunately, this wage growth coincided with historic levels of inflation.
From 2019-2022, the Consumer Price Index rose by 14.5% — far greater than average earnings growth across the board. As a result, real wage gains were eroded. While this impacted all workers, low-income households were impacted the most, as the cost of necessities like food and housing saw the fastest growth in several decades. In fact, the US Census Bureau recently found that income inequality rose in 2021 for the first time since 2011 due to declining real income at the bottom of the income distribution.
Today, the labor market is still tight. The most recent data shows unemployment rates of less than 4% in almost all states [2] — an environment that has strong potential for further wage gains. However, persistent income inequality — especially as it pertains to gender, race, and ethnicity — will continue to threaten communities without strategic action.
Economies with low levels of income inequality and strong economic mobility are more resilient against future downturns.
There are several strategies that economic developers (and others) can use to combat income inequality, particularly in the face of declining real wages:
Support diverse educational opportunities. Individuals with lower levels of education typically have higher rates of unemployment and lower earnings when compared to their college-educated counterparts. That said, this "college premium" has decreased significantly since 2000, highlighting the importance of more diverse educational opportunities like early education, technical education, apprenticeships, and training programs to prepare future workers for the next generation of occupations. The latter will become increasingly important as technology continues to change the way we interact with the economy.
Pay transparency. Recent years have brought a shift towards pay transparency, or disclosing information about compensation. Research has shown that wage transparency practices, such as disclosing target pay ranges in job postings, significantly increase both wage equity and wage equality.
Increase the minimum wage. The most direct way to support workers in low-paying jobs is to support a living wage. This policy shifts income to households that spend more of their earnings on goods and services in the local economy and has the potential to lift significant numbers of American workers out of poverty.
Support the entrepreneurial environment. Advocating for entrepreneurship and supporting small business innovation provides new opportunities for middle-wage workers.
Invest in business retention and expansion (BRE) programs. Existing businesses play a crucial role in job growth and community investment and contribute stable jobs to local economies. Check out my colleague's recent article about building a BRE program for more information on this subject.
____________________________________________
[1] In 2022, the bottom 10% of occupations had average wages of less than $34,500, according to Camoin Associates analysis of Lightcast data.
[2] As of February 2023, according to the Bureau of Labor Statistics' most recent release.
____________________________________________
Does your community or organization need a targeted, data-driven industry or workforce development strategy? Camoin Associates is a national leader in research and data analysis. Contact us to learn more about our Industry and Workforce Analytics services.