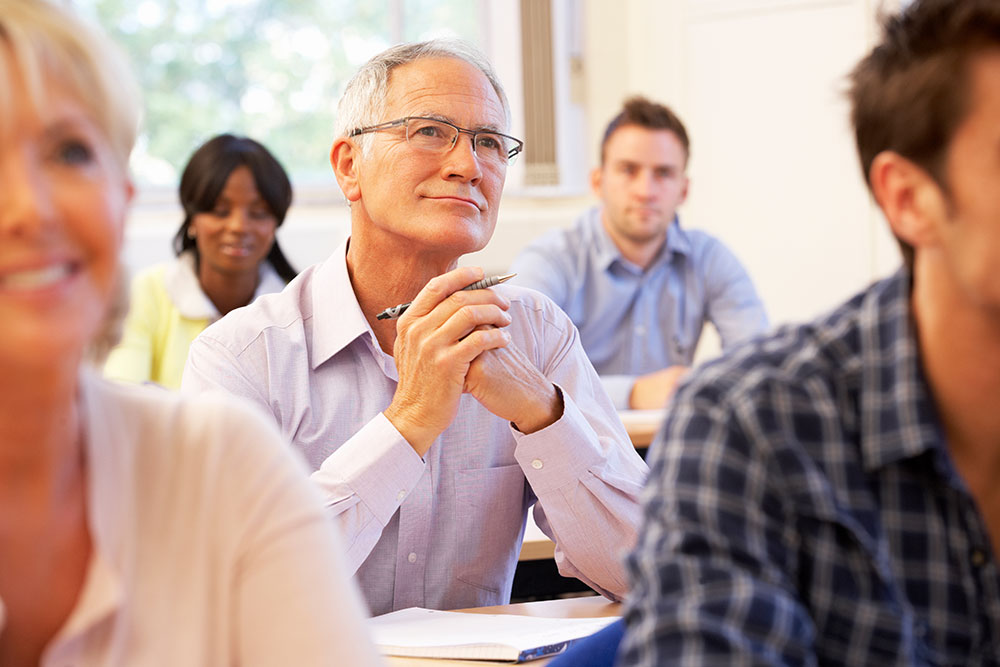 Having left their mark on so many other industries, the Baby Boomer generation is now reshaping the nation's view of retirement living.
Advancements in medical care have significantly extended life spans and with that, people are working to an older age and accumulating greater wealth. Along with lengthening careers, a longer life also means an extended and healthier post-retirement period, and seniors are now demanding an increasingly broad array of lifestyle opportunities to meet their needs and interests.
In response to this demand, there is a wider range of senior living options than ever before, catering to older households across the continuum of care, from active and independent living to assisted living, to nursing and memory care. Among these, the university- or college-based retirement community model has emerged as a unique option for those seniors drawn to opportunities for lifelong learning.
The New Seniors on Campus
For higher-income seniors wanting a more enriching retirement experience, many colleges and universities have begun offering the in-depth intellectual stimulation they seek. As recently as the mid-1990s, only a couple dozen post-secondary schools had established formalized connections with a retirement facility. Since then, however, their ranks have swelled to more than a hundred with many more in the planning or development stages.
College enrollments dropped by over 600,000 students from 2009 to 2019 followed by a precipitous pandemic decline (a reduction of nearly 1 million students). Despite the more recent rebound, prospects for renewed growth are limited.
Schools looking to make fuller use of their many assets are finding that affluent seniors are hungry for life-long learning along with connections to a community beyond their fellow retirees, which presents a unique opportunity to combine senior housing with ongoing education through university- and college-based retirement communities. The most obvious benefit of this type of senior housing community is the convenient availability of educational opportunities but other enticing aspects of living on a college or university campus include easy access to extensive exercise facilities, college sports, and performance arts events.
Of course, these seniors are not paying to live in college dormitories. To remain competitive, their residential space must be on par with alternative up-scale residences. In addition, a full range of care options is generally available with nearly all university- and college-based retirement communities using the Life Plan Community model.
Andrew Carle at the George Mason University Program in Assisted Living and Senior Housing Administration laid out five best practices for a university- or college-based retirement community, designed to ensure retirees will achieve the level of activity and intellectual stimulation expected from this type of community. These include:
A location easily accessible to the campus itself
Formalized arrangements between the school and the community, ensuring intergenerational diversity and a range of activities
A full range of senior housing services offering a continuum of care, from independent to assisted living and nursing facilities
Strong connections between the school and the facility with 10% or more of the residents made up of alumni, former faculty, and former employees
A documented financial relationship between the senior housing provider and the school
In more loosely defined arrangements, some providers may also offer "University Affiliated" or "University Partnered" communities.
What's in It for the Schools?
Beyond the varied opportunities available to residents of university- and college-based retirement communities, many reciprocal benefits flow back to the school. From newly available landscaping, housekeeping, and food-service jobs to nursing, hospitality, and administrative support, the residence provides a ready source of on- (or near-) campus employment opportunities.
As year-round occupants, seniors also make use of otherwise underutilized facilities through the summer months. And, with their many life experiences, seniors may also serve as student mentors.
Longer term, as alumni and faculty make the transition to becoming long-term residents, their growing affinity with the school also encourages donations and bequests.
While some colleges have taken it upon themselves to develop and operate their own university- or college-based retirement community, they have frequently not had the internal expertise needed to effectively run these facilities, and school presidents are typically not happy to take calls about the quality of meals being served in the retirement community. Entering into an agreement with a third-party operator has proven to be the best path for both colleges and residents. This way, the school can focus on what it does best, providing educational opportunities to students, young and old, and leave the day-to-day workings of the university- or college-based retirement community to the continuing care services experts.
The number of university- and college-based retirement communities in the US continues to grow. In 2020, the 298-unit Mirabella at Arizona State University in Tempe opened, offering a pool, wellness center, physical therapy gym, theater, and valet parking plus four restaurants.
In 2022, residents began moving into Sooner Station at the University of Oklahoma, which boasts 189 units along with a salon and spa, pool, fitness center, multiple dining rooms, and a bistro.
Opening this fall (2023), the 220-unit Broadview at Purchase College in Westchester County, NY, will offer amenities such as a fitness center, heated indoor pool, salon, library, movie theater, and several dining venues.
The nation is experiencing a general shortage of housing with households aged 65 and over representing some of the greatest growth in demand. Separately, colleges and universities are facing declining levels of registration. Continued development of university- and college-based retirement communities shows the potential to meet the housing needs of a certain portion of the senior community while also providing additional financial support for higher education institutions.
---
Sidebar: Senior Living Trends
The US population is aging, and the number of people aged 70 years and older is growing. From 2002 to 2012, this population increased by 12.1% (a 1.2% annualized rate). And more recently the rate of growth has accelerated. From 2012 to 2022 this cohort jumped by a third (33% or 2.9% annualized). Going forward, the outlook is for continued rapid expansion with growth expected to total 24.2% over the 2022 to 2032 timeframe – a 2.2% annualized pace. The expression that 10,000 Baby Boomers retire every day is remarkably close to the truth.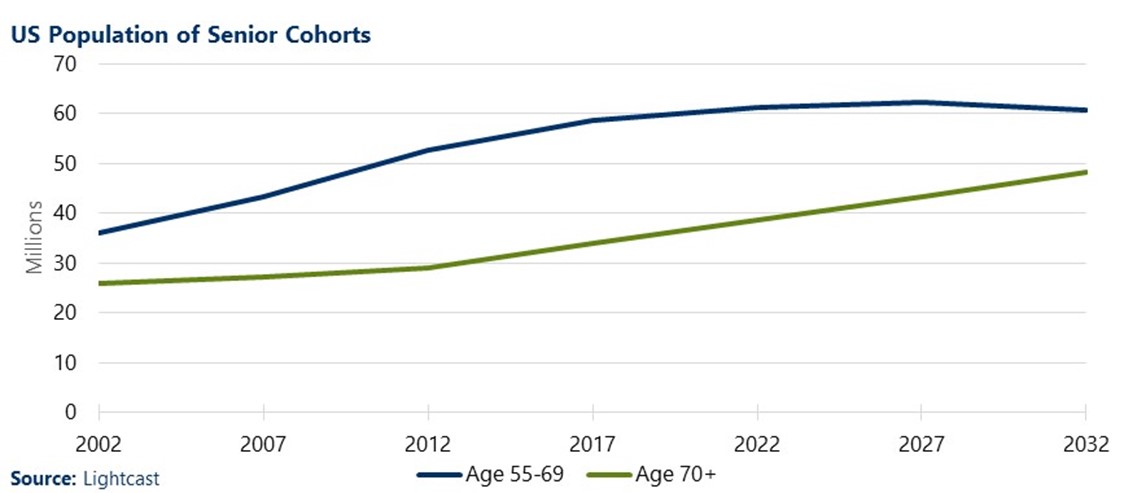 ---
Sidebar: The Independent Living Option
Options for retirement lifestyles and living arrangements are broad and varied. Those interested in recreational, social, and educational opportunities frequently choose "independent living" facilities, which offer an environment that promotes an active lifestyle. These generally provide housekeeping services, meals, and ready access to healthcare services along with amenities such as pools and fitness centers, beauty salons, security services, and organized activities.
Upfront and recurring expenses can be significant for life in an independent living facility but are not beyond the reach of a sizable and growing number of senior households. The aging of America will bring a 3.6% increase in households headed by persons aged 55 and older from 2022 to 2027. Gains in this age cohort, however, are significantly weighted towards the upper end of the income spectrum with the number of households registering an annual income of $150,000 or higher expected to jump by 32%. Going forward, these more affluent senior households will continue to create strong demand for independent living options.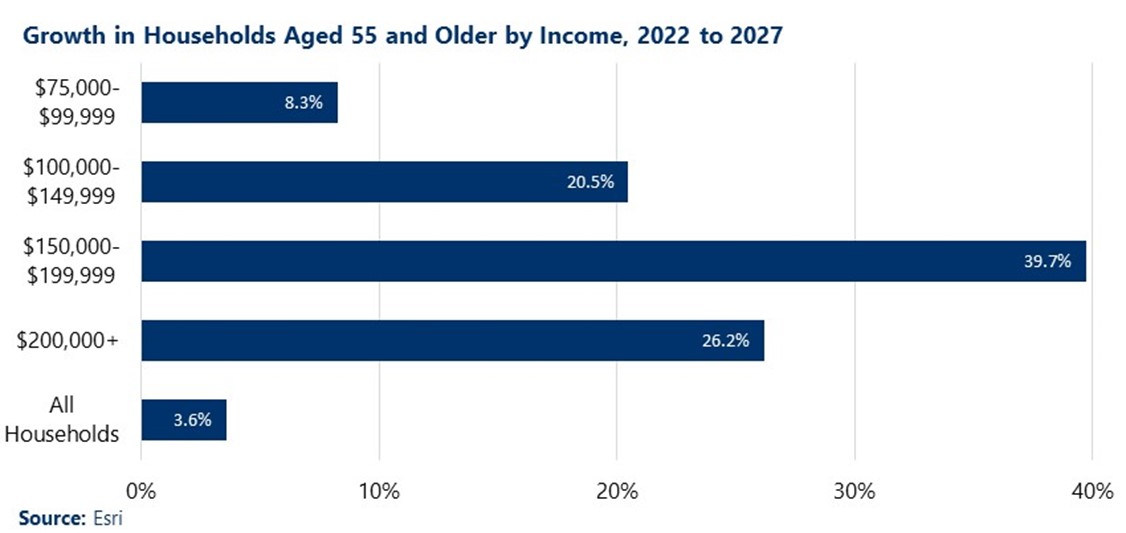 ---
Are you interested in pursuing this type of housing development and need a market analysis, financial impact analysis, or feasibility study before proceeding? Camoin Associates can help. Learn more about our Real Estate Development Services.