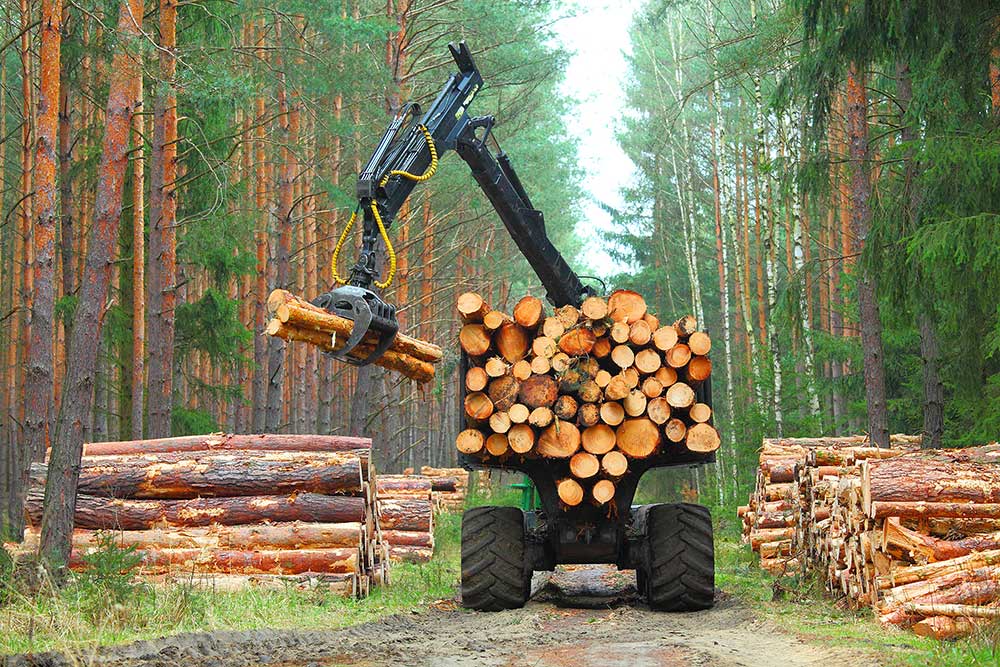 This article originally appeared in the September/October 2023 issue of Expansion Solutions Magazine.
Like all industries, forestry and lumber-related industries are experiencing significant transitions from global and national issues, including climate and related environmental changes, clean and green technology, demand for housing construction, labor market and demographics impacting workforce, and more. These issues are creating both opportunities and challenges. This article examines recent trends in and impacts on the forestry and lumber-related sectors and offers insights into emerging opportunities.
For the purposes of this article, forestry and lumber industries included in this article include services critical to the industry (timber services, logging, and other support services), Sawmills and Wood Product Production, and Pulp and Paper Manufacturing. A detailed list of these industry sectors is provided at the end of this article.
Industry Overview[1]
Establishments
There were approximately 75,000 establishments in the forestry and lumber sector in 2022. Employment is heavily concentrated in the natural resources segment of the sector, with over 45,000 establishments in the logging industry alone and over 16,000 in the forest support services industry. Meanwhile, the lumber and wood products segment accounted for 10,500 business establishments in 2022.
Overall, the number of establishments in the sector dropped by 9% in the last five years and is projected to contract by another 6% through 2027. These reductions are driven by Wood Product Manufacturing and Logging, which lost a combined 8,700 establishments over the last five years.
Contractions across the board have been heavily influenced by high levels of foreign competition as the appreciating dollar has made exports less competitive. Other downstream impacts, like the declining production of Paper Mills, have had ripple effects throughout the industry.
Employment
Employment in the sector topped 425,000 in 2022, essentially unchanged from five years prior. Major employment reductions in industries like Paper Mills (-15,100) and Logging (-7,900) were offset by gains in Forest Support Services (+8,700), Sawmills and Wood Production (+8,350), and Prefab Home Manufacturing (+6,550).
Despite relatively stable employment numbers over the last five years, employment is expected to decline by 7% over the next five years (-28,500 jobs). Nearly all sub-industries are expected to see a decline in employment through 2027.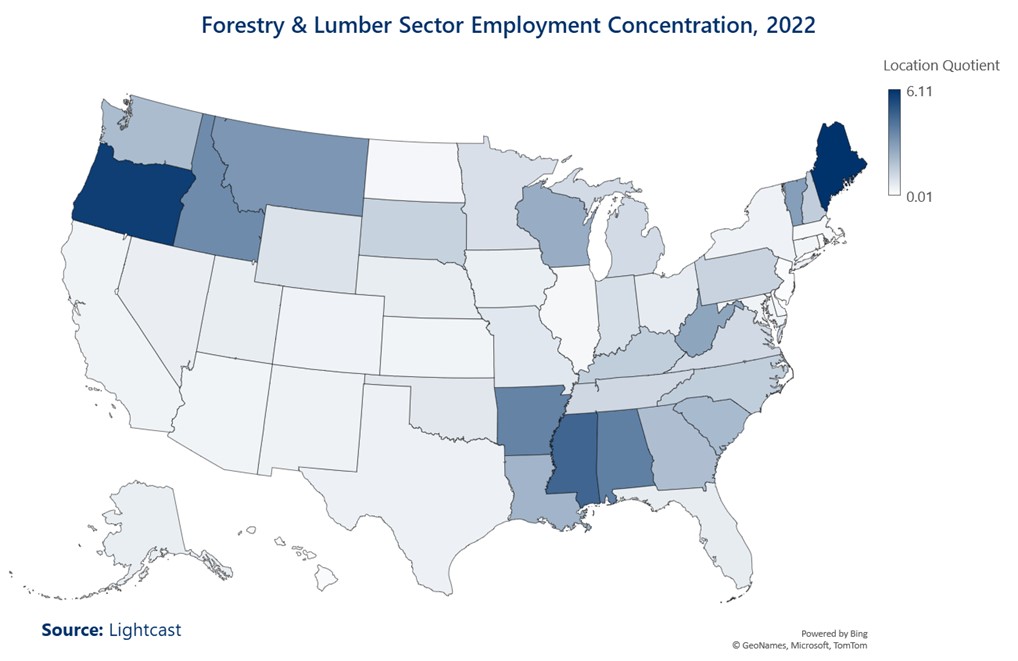 The sector is most concentrated in the Northeast, Pacific Northwest, and Southeast regions in the US. Maine has the highest employment concentration[2] (6.1), followed by Oregon (5.8), Mississippi (4.6), Alabama (3.8), and Arkansas (3.7).
Revenue
The natural resource segment of the sector (Logging, Timber Services, and Forest Support Services) had a total of $21.6 billion in revenue in 2022, while the lumber and wood products segment had a total of $153.5 billion.
Logging was the largest natural resource industry by revenue, reaching $16 billion. Meanwhile, Sawmills and Wood Production; Wood Paneling Manufacturing; and Paper Mills together make up 83% of the lumber and wood products segment.

In the past five years, the forestry and lumber sector's revenue has grown by 7%. Some industries have seen significant declines, including Paper Mills (-22%), Timber Services (-10%), and Logging (-5%).
During this period, losses were fully offset by gains in other industries, such as Forest Support Services (+52%), Wood Paneling Manufacturing (+32%), and Sawmills and Wood Production (+26%). Through 2027, the trend is projected to reverse.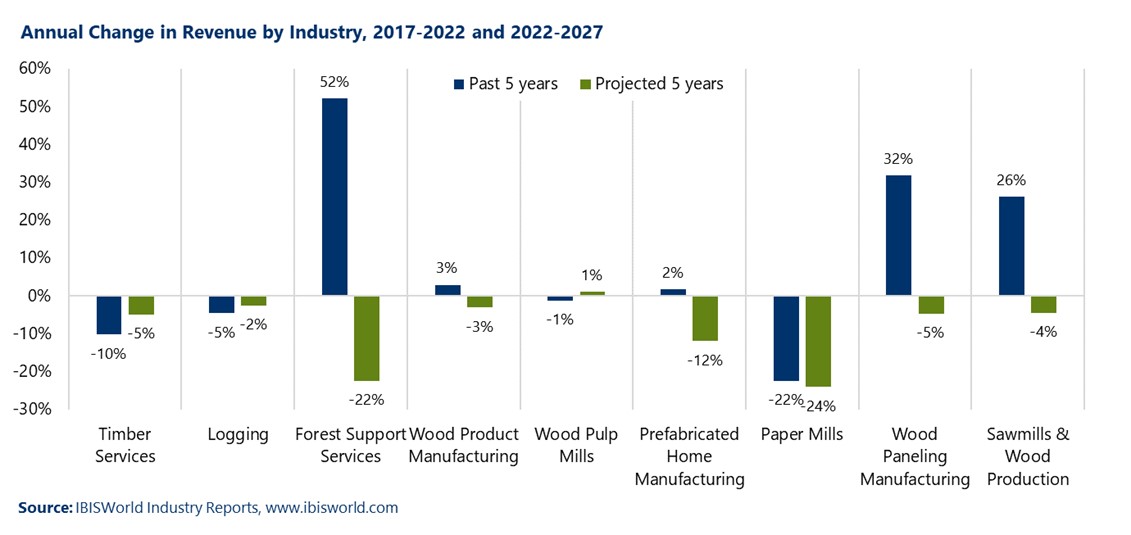 The sector's revenue overall is projected to decline by 9% from 2022-2027, totaling a $15.7 billion decrease. Nearly every sub-industry is projected to see revenues contract, but declines are driven by Paper Mills, which is projected to see the most severe decline in revenue, dipping 24% or $8.7 billion.
Supply Chain
The forestry and lumber sector has strong intra-industry supply chain linkages, with industries like Sawmills and Wood Production and Forest Support Services being both suppliers and buyers of the industry's products. Other important buyers include Paper Product Manufacturing, Public Administration, Wood Pulp Mills, Logging, and Lumber Wholesalers.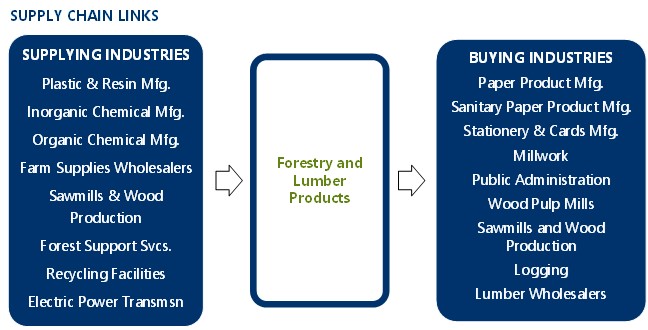 Exports
Wood Pulp Mills exported $7.8 billion to foreign partners in 2022, accounting for 38% of all foreign exports in the lumber and wood products segment of the sector. Other major exporting industries include Sawmills and Wood Production ($4.3 billion) and Paper Mills ($2.5 billion).
China and Canada are the United States' two largest export partners for the forestry and lumber sector, accounting for approximately $4.3 billion and $3 billion of exports in 2022, respectively. Other nations such as Mexico, Japan, and the United Kingdom represent major trade partners.

Economic Trends Affecting the Industry
There are multiple key economic variables that influence the market performance of the forestry and lumber sector. These include:
Trade-weighted index
Price of sawmill lumber
Housing starts
Value of residential construction
Value of private nonresidential construction
Private spending on home improvements
Below is an overview of the strongest drivers of the industry.
Trade-Weighted Index
The Trade-Weighted index, otherwise known as the Nominal Broad US Dollar Index, measures the strength of the US dollar compared to the currency values of the nation's trading partners and is calculated by comparing exchange rates to the magnitude of trade with other nations. When the Trade-Weighted Index is higher, the relative value of the dollar is stronger, meaning exports are less competitive in the global market.
While the index increased in 2022, it is expected to gradually decline through 2027. A lower trade-weighted index in the coming years would improve the competitiveness of the United States' exports, creating further opportunities for the forestry and lumber sector to access international markets.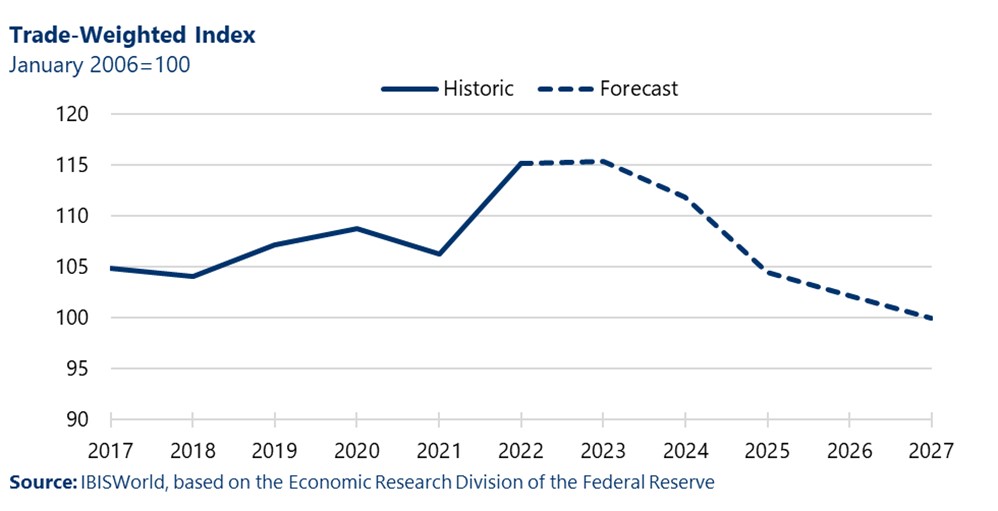 Price of Sawmill Lumber
The price of sawmill lumber has competing impacts on different segments of the forestry and lumber sector. While rising prices serve as a boost to revenues for industries like Logging and Sawmills, it deals a short-term blow to industries like wood product manufacturing that use lumber as a primary input.
The price of sawmill lumber has been somewhat volatile in recent years, spiking through 2021 and growing 52% from 2017-2022. Over the next five years through 2027, prices are expected to remain somewhat stable, declining slightly by 2%.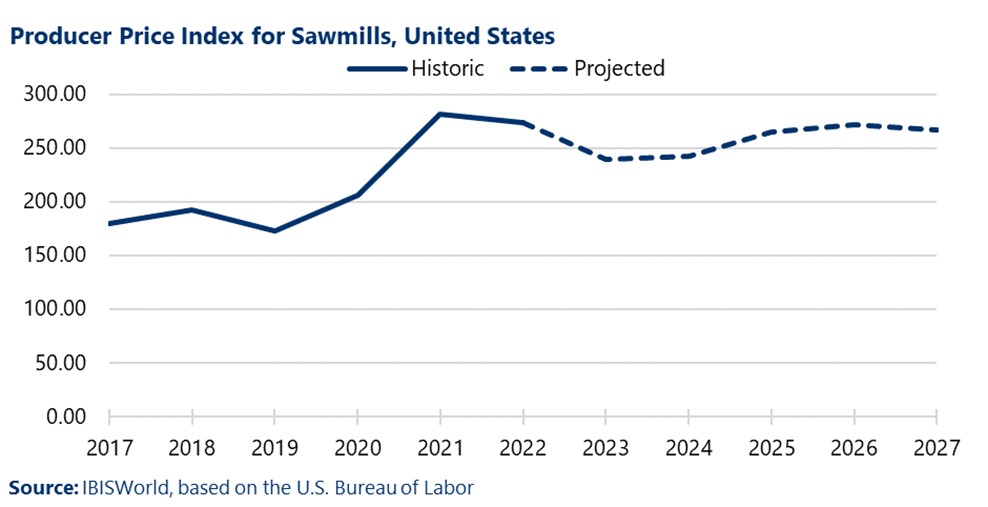 Housing Starts
Housing starts represent the number of new privately-owned housing units that started construction during the year, including both single-family and multifamily units. Housing starts are a good indicator of demand for residential building materials and lumber. Housing starts spiked in 2021, reaching 1.6 million units amid the COVID-19 pandemic and favorable borrowing conditions. However, starts are expected to decrease in 2023 and slow in the next five years as the housing market cools. Additionally, high interest rates are creating unfavorable borrowing conditions for homeowners and home builders.
Workforce Trends and Labor Challenges
Workforce is a major challenge to stability and growth in the forestry and lumber-related sectors.  In 2022, the top occupation in the sector was Logging Equipment Operators, which accounted for 33,592 jobs and 9% of total employment in the sector in 2022. Individuals who work in this occupation operate a wide range of equipment but tend to operate heavy machinery used in forestry activities. Overall, 95% of Logging Equipment Operators work in forestry and lumber.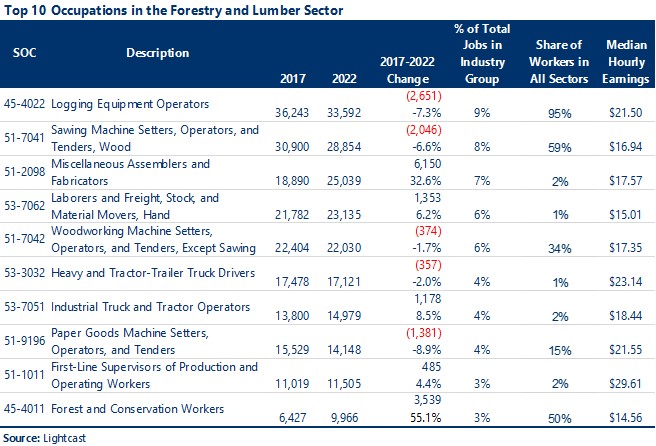 However, other top occupations are not as concentrated within the sector. In fact, many of the top occupations face significant competition for labor across other industries. These include Laborers and Freight, Stock, and Material Movers or Heavy and Tractor Trailer Truck Drivers, with about 1% of these workers in the forestry and lumber sector.
Heavy and Tractor-Trailer Truck Drivers, for example, were the sixth-most in-demand occupation over the last 60 months[3], with over 4 million unique job postings. Laborers and Freight, Stock, and Material Movers represented the eighth-most in-demand occupation during the same time period, with 3.4 million unique job postings. This being said, the forestry and lumber sector faces steep labor competition for its top occupations and likely will continue to struggle to fill these roles in the near future.
Challenges and New Horizons in Forestry and Lumber Products
The forestry and lumber sector will face various challenges in the next several years, which it will need to overcome in order to see growth.
Projected Revenue Declines: Revenues are projected to decline through 2027, driven by steep contractions in Paper Mills ($8.7 billion). Revenue for Paper Mills has been on a steep downward trend nationally for the past 15 years, falling from $75.8 billion in 2005 to $36.1 billion in 2022. Rising e-commerce, online business operations, and global competition have threatened the industry's performance, prompting diversification of products.Other key industries like Sawmills and Wood Production have seen rising success in recent years thanks to new construction fueled by COVID-19. However, rising interest rates, declining housing starts, and trade disagreements between the US, Mexico, and Canada will hamper future growth in the coming years.
Workforce: As explored above, the sector is expected to increasingly rely on occupations that face significant labor competition, such as Heavy and Tractor Trailer Truck Drivers, Freight and Material Movers, various machine operators, and more. Not only will businesses within the forestry and lumber sector compete for these workers, but they will also compete with many other sectors throughout the economy for these highly transferable workers and skills.
Climate Change: Changing climate will impact the way forestry operations are able to be undertaken in the future. Warmer winters will lead to shorter time periods where logging trucks can operate on frozen logging roads. Other impacts include wildfires and storms, new invasive species and insect outbreaks, and more.
Despite these challenges, several new opportunities exist on the horizon for the forestry and lumber sectors.
Mass Timber, Structural Round Timber, and Cross-Laminated Timber: Mass Timber is a new category of wood product, comprised of multiple solid wood panels nailed or glued together, which provide exceptional strength and stability. It's a strong, low-carbon alternative to concrete and steel.Mass timber includes cross-laminated timber (CLT), nail-laminated timber, glulam, mass plywood panels, dowel-laminated timber, and laminated veneer lumber. It can be used in a range of construction, including mid-rise construction common in so many New England cities.Structural Round Timber (SRT) is mass timber that uses minimally processed whole trees for the construction market. SRT is 50% stronger than a milled piece of lumber of the same diameter, with a weight-to-strength ratio equal to steel in tension[4]. What is more, because the outer fibers of the tree are left intact when fabricated for SRT applications, the variability curve for this structural material is closer to that of steel than milled wood.It is a more predictable material when left un-milled, and thus a wide range of often less marketable or lower value species can be sold to high-value applications at very attractive prices that represent a significant value uplift for local timber suppliers[5].
Currently, mass timber is more commonly used in the Midwest and Pacific Northwest, though recent activity, including in Maine, is occurring in the Northeast.
Nanocellulose and Cellulosic Fiber: Cellulose and nanocellulose are derived from natural materials, including wood pulp. They have a wide array of potential applications and can be used to create materials with high strength but low weight. Additionally, they can be made from lower-quality wood that cannot be used for lumber or furniture. The US Forest Service notes that nanocellulose has the potential to be used in applications spanning from concrete reinforcement, electronic components, food preservation, and more.[6]
Biomass and Biofuels: Wood biomass offers a renewable, less carbon-intensive alternative to fossil fuels and other biomass and biofuels. Interest in woody biofuel has gained traction in recent years as new technologies have improved the efficiency of wood fuels. These include wood pellets and compressed wood bricks, which can be made with wood by-products like wood chips and sawdust and burn with higher efficiency and lower particle emissions. In 2022, about 2.1% of US annual total energy consumption was from wood and wood waste — bark, sawdust, wood chips, wood scrap, and paper mill residues.[7]Wood biomass accounted for approximately 2,000 trillion BTU of energy consumption in 2022, approximately 15% of overall renewable energy consumption in the United States. Wood biomass consumption expanded in the 1970s and 1980s and has remained around 2,000 trillion BTU per year in the last two decades.
Takeaways for Business and Economic Developers
Focusing on forest and lumber products for targeted business and economic development is not for every area. A region must have reasonable proximity to forest land.
However, while the Northeast, Pacific Northwest, and Southeast have high concentrations for forest land, other areas of the country have some forest areas and/or proximity to lumber and wood-related product inputs.
In supporting and growing opportunities in these sectors economic and business developers should:
Develop industry-driven workforce initiatives to bring new people into the workforce, given the importance of workforce and its existing challenges. Commit to training through the development of apprenticeships and recruitment of participants, including among non-traditional populations. Community colleges are the most typical source of apprentices in these industries but other models exist as well.
Develop and foster partnerships among industry and research and development entities, including university research centers. Innovations in the use of wood for advanced materials, mass construction, and energy are occurring rapidly. This changes markets and creates new opportunities.
Work with industry groups in both the wood and forest product industries but also in the Greentech and clean energy fields. Funding support at all levels is increasing in both of these fields.
Support existing industry using B2B development through market analysis and trade show support. A list of suggested trades shows is indicated in the following table:


| | |
| --- | --- |
| Product Trade Shows | |
| Sector for Show | Name of Show |
| Machinery and Equipment | Forest Products Machinery and Equipment Expo |
| Machinery and Materials | Holz-Handwerk |
| Millwork | Timber Processing and Energy Expo (TP&EE) |
| Pulp and Paper | Fastmarkets Forest Products North America Conference |
| Timber | International Mass Timber Conference |
| Woodworking | AWFS Fair |
| Woodworking | International Woodworking Fair (IWF) |
| Woodworking | IWPA World of Wood Convention |
| Woodworking | Ligna Hannover: World Trade Fair |
| Woodworking | Wood Pro Expo Illinois |
| Woodworking | Wood Pro Expo Lancaster |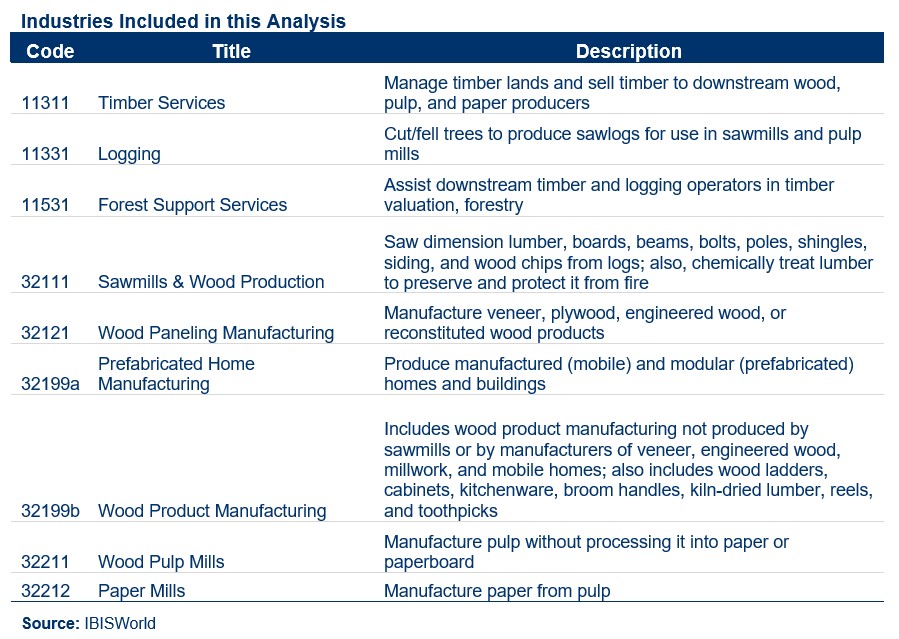 Learn more about Camoin Associates' Industry Analytics + Strategy Services
---
[1] Unless otherwise noted, data for this section is derived from forestry and lumber economic performance from IBIS World Industry Reports, www.ibisworld.com. Data is for 2022 and represents 12-month data unless otherwise specified.
[2] Concentration is measured by location quotient (LQ), which compares the concentration of employment in an industry within a state to the overall concentration of the industry's employment nationally. Values greater than 1.0 indicate that the industry is more concentrated in the state than on the national level.
[3] June 2018-June 2023
[4] Research conducted at the USDA Forest Products Laboratory (Madison, WI) indicates the superior strength of un-milled timbers. SDRT are 50% stronger in bending than an equivalent square section of milled lumber (Wolfe, 2000)
[5] Manufacturing Facility Feasibility Analysis, November 2022, Camoin Associates prepared for the Town of Ashland, ME, and Original Mass Timber Maine (OMTMaine)
[6] Murray, Lara and Androff, Amy. "The Greener World of Tomorrow: Build with Revolutionary Wood Products," US Forest Service. 21 Oct 2021.
[7] Monthly Energy Review, April 2023, U.S. Energy Information Administration